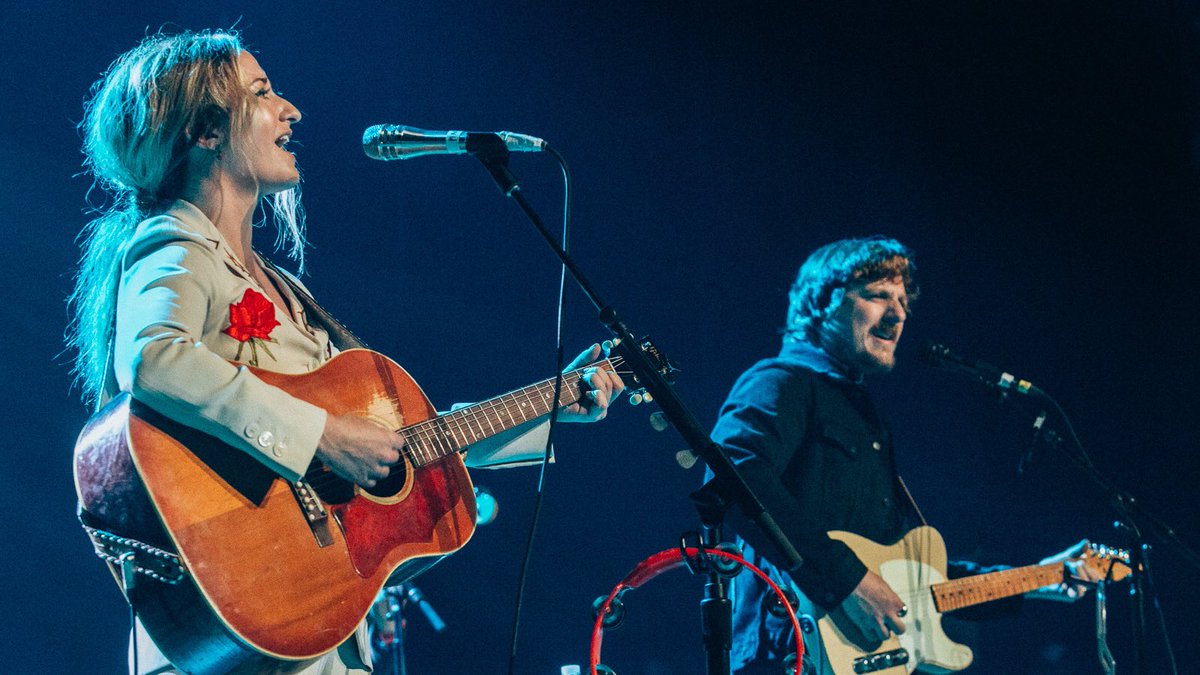 Margo Price and Sturgill Simpson at the Ryman Auditorium, in Nashville.
Show Review: Margo Price & Tyler Childers
@ The Ryman Auditorium in Nashville Tennessee
w/ Jack White and Sturgill Simpson
The decline of show review on this blog is directly attributable to the fact that I'm usually going to shows as a plus one of someone who either manages or works for or with the manager of the headlining artist. I now know that rare is the artist who doesn't keep track of their mentions on the internet, particularly when it's a long form/think piece type, even the writer is far from being popular or affiliated with a prominent news source. There has also been a recent decline in the number of such articles- music blogs have been dead for almost as long as they were alive, and those that survived have morphed into Tumblr style post and link style sites that rarely bother to include critical writing.
For example, I went to the Jack White show at the Mayan earlier this year, but I wouldn't write about it for fear that he would read the review and not like something about it- even something that was not intentionally negative, and it would get back to my boo. That's bad form. Margo Price I consider a friend. I loudly take credit for being the conduit being Price and her current management team at Monotone on the basis that I saw the first posting on Spin.com about her debut record on Third Man Recordings (Jack White, managed by Monotone) and told my girlfriend, fan of the Stagecoach Festival and the first five seasons of Nashville, the television show. She drew the attention of her boss, the rest is history.
It's flimsy, sure, but fortunes are made on less in this town(Los Angeles), where providing an introduction is a way-of-life as specific as court etiquette in 18th century France. My original thought is that Margo Price had the potential to be a country artist with an audience beyond the traditional country music audience. At the time I heard of Margo, I had already seen Sturgill Simpson in Los Angeles and so I was far from surprised when the success of Margo played a role in the description of a new movement of Outlaw Country/Americana artists. Margo herself hates the label, "Outlaw Country." She uses "Modern Traditional County" on her Facebook profile, but there is no denying the wave, led by Chris Stapelton at the very pinnacle, and followed by Sturgill, Jason Isbell, Margo, Tyler Childers, Nikki Lane and a host of others, many of whom have lengthy ties to the East Nashville neighborhood.
For those and many other reasons, Margo Price's three night stand at the Ryman Auditorium, the hallowed "Mother Church" of County Music, and long time home of the Grand Ole Opry, was a special show. I can't think of any other musical event that I've observed that has been so triumphant. It certainly dwarfs any of the achievements of my Zoo Music days- with the possible exception of the Dirty Beaches Best New Music designation on Pitchfork. It also surpasses any of the achievements of the bands that I followed but wasn't involved with- the Best Coasts and Wavves of that time period.
Midwest Farmer's Daughter
was released on March 16th, 2016- before that moment, barely more than two years later she was selling out a multiple night engagement at the most hallowed venue in county music- which itself was thought to be improbable down to the moment the second show sold out.
Night one featured guest spots from Lukas Nelson and Sturgill Simpson, night two featured Jack White. Both nights featured Tyler Childers, who himself was making his first appearance at the Ryman Auditorium. Childers an amazing story- according to Ben Swank, the head of Third Man Records, his opening night reception was as raucous as any at the Ryman for anyone, opener or headliner. Childers has a large and enthusiastic fan base, even though it would be hard to know it from reading the national media press. His most recent record,
Purgatory
, produced by Sturgill Simpson, had at least one genuine hit (White House Road) and a half dozen gems. His half million monthly Spotify plays surpasses that of Price herself.
The only thing missing from Childers is any kind of acknowledgment of modern music celebrity culture, where artists are supposed to dress up and prance around the stage in an attempt to engage the audience. None of that bullshit from Childers. The Sturgill Simpson guest spot on night one was good but not great- as supposed to the Lukas Nelson duet- which sent chills down my spine.
Night two was a more relaxed affair- the crowd was more sedate, and more attentive. Jack White and Margo did an excellent duet, again, chills, and raucous audience response, and over all the night two vibe was preferable to night one, in my mind. Hanging back stage at the Ryman was an absolute treat- the only other time I'd been backstage there was literally on the tour, two years ago. As the kids would say, "Great vibes."
Truly, a triumphant episode for Margo Price, and surely a rebuttal to any who would claim that Margo Price is anything BUT a mainline country music star in the making, outlaw and americana tags be damned.