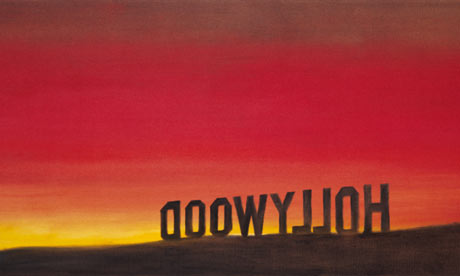 Ed Ruscha: Back of Hollywood, this is the cover image from Jean Stein's West of Eden: An Ameican Place.
Book Review
West of Eden: An American Place (2016)
by Jean Stein
Published February 9th, 2016
Random House
Jean Stein is the daughter of Jules Stein, the founder of a talent agency that turned into M.C.A., on of the world's largest entertainment conglomerates. She also wrote
Edie
, about the Warhol Factory super-star. Stein was raced in and among the families described in West of Eden: An American Place, about the ruling class in 20th century. Her family is actually the last of the five families discussed. The others include the Doheny's, Jack Warner, David O. Selzinick and Stein's own father.
West of Eden
takes the form of an oral history, so if you are looking for by-the-book, footnoted history, you are in the wrong face. Stein's prose is simply gossip with a literary bent, but her sources, including friends like Joan Didion, Gore Vidal and "anyone who is anyone" from the cream of Los Angeles society give her an unquestionable air of authority.
In 2016 it's hard to imagine anyone being shocked by the foilibles of early 20th century Angeleno plutocrats, but the material has an amazing Chinatown/Raymond Chandler appeal, realer than any fictional counterparts (and there are many.)