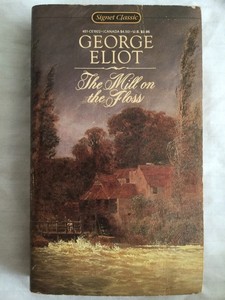 Signet classics paperback edition of The Mill on the Floss by George Eliot
Book Review
The Mill on the Floss (1860)
by George Eliot
The Mill on the Floss
by George Eliot (T/N Mary Ann Evans) was the first book I was assigned to read at my admittedly strange high school. I was, of course, a precocious reader, but certainly not familiar with much literature beyond what could be found in the science fiction section of my local public library. I was not impressed, fair to say. Found it tedious. I remember staring at the cover of the Signet Classics paperback edition I was reading and wondering how I was going to survive high school.
Reading
The Mill on the Floss
certainly did not inspire a life-long love affair with literature. Besides a brief flirtation with creative writing in college, I didn't read much fiction until after I had attended law school, graduated, passed the bar and got my legal career going. Revisiting it as an Audiobook as I try to wrap up the last 50 or so titles from the first edition of the 1001 Books list, I wasn't struck my any recollections of the book itself, just the circumstances of reading it as the first book assigned in high school English.
The Mill on the Floss
is another Audiobook sweet spot in 19th century fiction, long enough to be more convenient in audio than written form, modern enough in prose style to be comprehensible to a modern ear, but old enough that the voices lend some understanding to the words of the characters. For example, the (female) narrator uses what I am guessing are Midlands accents for all of the characters, and also varies them according to levels of class and education, less educated characters sound rougher. It's unlikely that any American reader would catch that distinction or even know what exactly a Midlands accent sounds like.
It was around 19 hours in length- 612 pages in paperback- so on the long side, with a first act- recounting the destruction of the Tulliver family through the impudence of their mill-owning patriarch, Mr. Tulliver (no first name). The rest of the book deals exclusively with the young adulthood of his children, Tom and Maggie. Truly it was the voice characterization that made listening to the Audiobook of
The Mill on the Floss
a breeze compared to reading the 600 page book. It has almost a soothing quality. Of course, Eliot's writing, while not funny is certainly clever, and she can't be accused of currying favor with her prospective audience. None of her major characters come off particularly well, the character of Maggie being one of the great frustrating protagonists of 19th century literature.