how much do i love the brass rail? plenty. i'd never seen plot to blow up the eiffel tower before. i was talking to Brian, the drummer in both plot to blow up the eiffel tower and the prayers, at Taang before the show and he said that this was their "third" 21 and over show ever. And that they'd only played five times in san diego... this year? he didn't specify the time frame.

before the show i hung out at Taang! records- which just re-opened their famous record store in, of all the fucking places in the world, hillcrest. i talked to curtis- who confirmed that taang! SOLD their building in mission beach (i.e. they didn't get "evicted"- which i had read some where- um- maybe the reader, say, this week- or last? and it said somehow that they were forced out, which is totally different then selling the building you presumably bought for pennies in the early 90s- say, right at the top of the market. i dunno.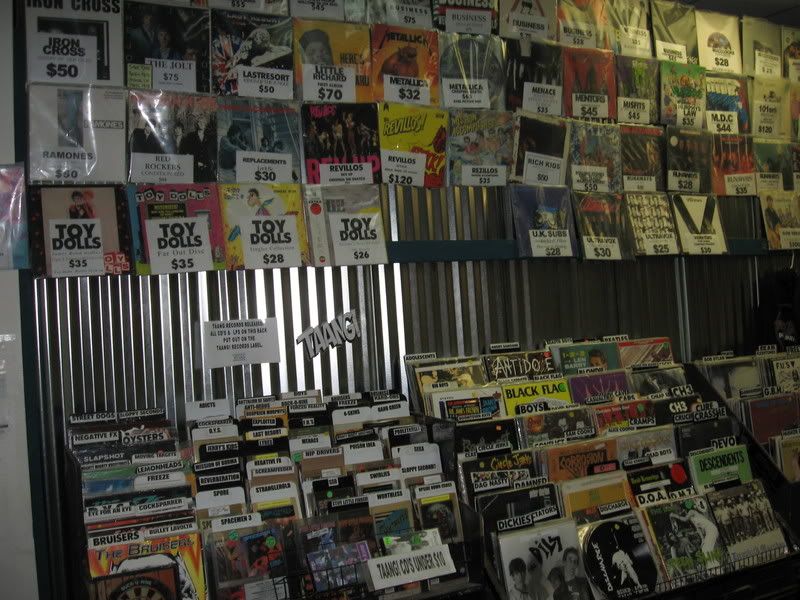 interior, taang! records in hillcrest

you really ought to go check them out. as i was sitting there sipping on a budweiser tall boy and flipping through 7"s, i was thinking that taang! would be a great place to buy a birthday present for that extra special music snob in your life. or if you just want to you know, lay the hammer down on someone. you can see in the picture there that they've got all kinds of cool stuff- metallica, for instance.

anyways, i was chatting with... store manager? miggs. miggs is cool- he really like the power chords & the sess and the atoms, and he works for taang! brian hill and.. damn.. forgot his name. i think he's a blogger, though. don't quote me on that- i'll check into it. stopped by and so did singer/songwriter vanja james, who said she was recording an album in san francisco. she was with mookie from 91x. i didn't see them at the show later? what happened? maybe i'll have to check out vanja's new blog to see what happened! hope there's nothing mean about me in there! ha-ha.

So- before you read the review, make sure you understand the full interrelationship between all these bands here. plot is reigning "best punk band", some girls is competing with fifty on their heels for their epitaph album for "best punk album". plot is up for best punk band... again. they're opening for the slits in new york @ CMJ. I mean- fuck.

The Personnel Guide to Plot to Blow up the Eiffel Tower, Some Girls, The Prayers & Charles Rowland and the Vultures




the plot to blow up the eiffel tower @ brass rail, hillcrest

so- i thought the plot to blow up the eiffel tower were AWESOME. They're clearly within the lineage of hard core, jazz-core, arty hard core, what have you. They obviously have an appreciation for bands from dischord records and the LATER dischord sound- kind of the hard core combined with math rock or jazz or what have you. Honestly, I have a huge place in my heart for that music, since my college roommate basically brainwashed me with dischord records my sophmore year in college.

anyway- their "alll ages" show policy is something that Fugazi always observed, so that's an obvious direct influence. the singer is really good- very passionate- reminding me of... i dunno- nation of ulysses? i guess that's a safe comparison instead of some band like rites of spring, which suffers from guilt by association these days. but man- they fucking rock.

basically, they were great. i mean, the refused managed to sell a good deal of records with a similar sound. right? the refused? that record sold a lot, didn't it? they should play more 21+ shows!