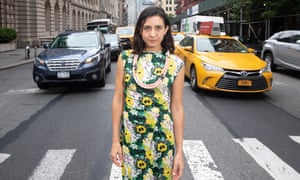 Author Ottessa Moshfegh
Book Review
Eileen (2015)
by Ottessa Moshfegh
If you want to find commercial/literary cross-over success, head to your local major metropolitan airport- New York, Los Angeles, and look at the display for the airport bookstore. If a work of literary fiction is getting major shelve space, as is the case for Moshfegh's latest book,
My Year of Rest and Relaxation
. I saw it myself at JFK airport in New York three weeks ago, Boston two weeks ago and Los Angeles this week. Surely, My Year of Rest and Relaxation is a good prize for the major book awards- maybe not the Pulitzer, but a Booker Prize or the National Book Award would seem to be in reach.
It's also a pretty good sign that after I read My Year of Rest and Relaxation I ran out and BOUGHT paperback copies of her first two books, the novella McGlue and her debut novel, the sleek n' nasty Eileen, about Eileen Dunlop, who narrates the events as a much older woman a la
Titanic
. The events take place in a small town in Massacusets in the mid 1960's. Eileen Dunlop works at a local juvenile prison and lives with her alcoholic ex-cop father, still a semi-respected figure in the town even though he has completely lost his mind and spends his days tormenting Eileen, drinking himself into a stupor, and pointing his gun at local school children who happen to walk past his house on their way to and from school.
Eileen and her Dad live in a squalor familiar to watchers of TLC style reality shows like Hoarders and 600 LB Life. Neither one cooks or cleans, Eileen also drinks and suffers from a variety of physical and mental maladies ranging from constipation to severe anxiety and depression. She is, in other words, a classic Moshfegh narrator/protagonist. I found it a compelling read, like all of her books. I'm a believer! The cross-over success of
My Year of Rest and Relaxation i
s no fluke!
It's also worth noting that
Eileen
made it to the Booker Prize shortlist in 2015, the first year American published books were eligible, losing out to
The Sellout
by Paul Beatty. That automatically makes her a contender for the Booker Prize this year. The commercial/critical success makes her a good candidate for the National Book Award.