Martin Freeman as Arthur Dent and Zooey Deschanel as Trillian in the (terrible) 2005 movie version of The Hitchhiker's Guide to the Galaxy by Douglas Adams.
The Hitchhiker's Guide to the Galaxy (1981)
by Douglas Adams
The Hitchhiker's Guide to the Galaxy
was originally commissioned by the BBC as a radio play in 1978, only later did it become the hit book. Like many young adults of my generation, I reveled in the entire
Hitchhiker's Guide
series. I hadn't read any Kurt Vonnegut then, having the benefit of having read Vonnegut now, it's clear that Adams represented a kind of wry English take on the pop/philosophical novel that Kurt Vonnegut epitomized in the 1960's and 1970's. As I was recently re reading Hitchhiker's Guide for the purpose of this post, I have imagined that Vonnegut's wandering sci-fi author Kilgore Trout was going to show up.
Zooey Deschanel playing Trillian in the 2005 movie version of Hitchhiker's Guide to the Galaxy.
My fondness for
Hitchhiker's Guide
waned as I grew farther away from being a wise ass pre-teen, the final nail in the coffin was probably when Zooey Deschanel got cast as Trillian in the 2005 movie (even though Martin Freeman was literally the perfect actor to play Arthur Dent.) Actually it was the movie itself, which reminded me that the source material was not as clever as I had once supposed it to be.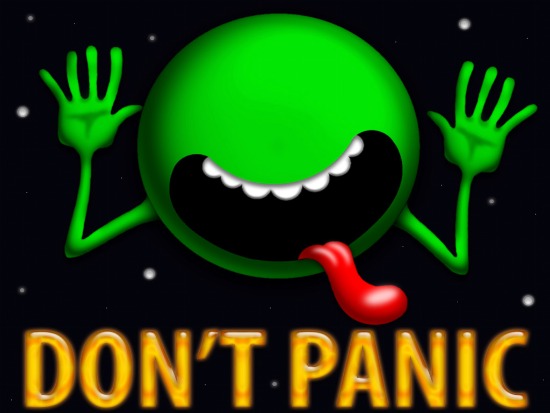 This Green alien with "Don't Panic" became the symbol of the Hitchhiker's Guide
I will say that Adams' was almost uncanny in his ability to grasp future developments in astro-physics and technology. His ideas about parallel dimensions and hyper-speed travel seem less comically outrageous and more like potentially spot on in 2016. Most impressively is the Hitchhiker's Guide itself, which essentially sounds like Wikipedia 15 years before Wikipedia existed. Pretty impressive for a 1978 English radio play.
Clearly, the enduring popularity of Adams among young adults speaks to his abilities as a novelist. In 2016, his less popular but still fantastic Dirk Gently: Holistic Detective has been caught up in the groundswell of peak television. No question that is his grasp of COMEDY- something that Vonnegut, for all his wit, never seemed to be able to wrap his arms around, that has proved the key to
Hitchhiker's Guide
enduring appeal with popular audiences.