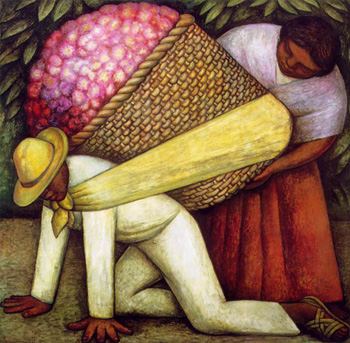 The Flower Carrier by Diego Rivera. part of an artistic awakening in Latin America that bore fruit in many disciplines.
Book Review
One Hundred Years of Solitude (1967)
by Gabriel Garcia Marquez
Forget any list of 1000 top novels,
One Hundred Years of Solitude
would probably be on the top 10 list out of 95% of well-read people. Essentially synonymous with the vital "magical realism" movement,
One Hundred Years of Solitude
is a rare book that is universally loved by academics, critics and a world wide audience of popular readers. Of course, I'd read One Hundred Years of Solitude before- maybe on multiple occasions by this point, but when I saw a new paperback edition sitting in a well maintained independent book store in Santa Fe New Mexico on a recent trip, I couldn't resist making the purchase.
As it turned out, I got to devote almost a week to reading it. After I caught a stomach bug in Paris, I had a few days in small town New Hampshire to recuperate and really give
Solitude
my full and undivided attention. Magical realism has become so successful that a high percentage of new books that qualify as "literature" contains at least one element traceable to the sui generis beginning found in
One Hundred Years of Solitude
, but the influences on
One Hundred Years of Solitude
are almost reducible to a formula, "Charismatic Colombian grandmother, Labyrinths by Borges and Kafka."
Besides the success of the book itself on any level one would care to discuss, there is also the fact that before
One Hundred Years of Solitude
, "magical realism" didn't exist as a term, and after it was published, it did. Marquez's multi-generational sage encapsulates the experience of a certain history of Latin America, without making anything specific enough to dispel the gauze that hangs over the famous fictional town of Macondo.
The Author himself is not that far away from being a mythic figure, what with his fraught history of journalism, kinship with Cuban dictator Fidel Castro and "Most Interesting Man in the World" look. And the Nobel Prize for Literature, and the translated into all the languages and read in all the languages. It's a Nobel Prize winning book you can buy in an airport, or an independent book store.