Introduction
2006 and 2007 was the beginning of my interest in local music, and the music business. Prior to 2004/2005 I was a fan of "indie music" and DIY culture, but had never considered starting a record label or managing an artist. These show reviews reflect my experience in the local music scene, at the cusp of the internet era
May 2006: Fifty on Their Heels, Avenue D Show Review, Scolari's Office, MOCA San Diego, The Prayers, How to Cross the Country on Tour, Manual Scan, The Power Chords
May 1st, 2006
It occurred to me that it might be worthwhile to document a local music scene, and I happen to be located in San Diego, after a childhood in the San Francisco Bay Area, college in Washington DC and London, and law school in the San Francisco Bay Area. I am new to San Diego, and it seems like the local music scene is an interesting place to hang out and meet new people.
San Diego Local Band Profile:
Fifty on Their Heels is a three piece from San Diego that has a sound influenced by the punk, post-punk and new wave movement(s) in the UK and America. They formed in 2005, played their first show at the San Diego Sports Club, played the pre-opening of the Beauty Bar, have played the Casbah, The Kensington Club, Vaudeville, The Launch Pad. They have a self titled ep, released in March 2006 by Cat Dirt Records. Cat Dirt Records is owned by the band.
May 13th, 2006
Show Review: The Sess, Enter Telescope, Vision of a Dying World
@ Scolari's Office on May 12th, 2006
Scolari's Office? It's hard to believe this was my first time there after what, almost five years in San Diego? Solaris's is a San Diego institution, in the heart of rapidly gentrifying north park. The first bit of bad news I received was that the Sess were headlining, so I figured I had a less then fifty percent chance of ACTUALLY being there when the Sess took the stage at (my estimate) 1:15 AM.
The funny bit about the location of Scolari's right now is that they're building these ENORMOUS condos directly across the street. North Park is a pretty low rise neighborhood(for the time being), but these condo's are like, five stories tall. And they're called... wait for it.. "la boheme". As a friend quipped to me as we entered Scolari's, "do you get a free copy of "Rent" on DVD when you sign your mortgage?"
Scolari's is an.. um.. intimate venue. The ceiling is about seven feet tall, place holds about fifty people, no stage. Decent sound though- I actually felt the sound was better at Scolari's than at the Ken Club.
The crowd appeared to be almost entirely composed of high school classmates of the three bands. That came into play at the end of the Enter Telescope set, when the singer got into it with some "drunk assholes" at the bar who accused him (I think) of being of "jock" based on his status as a former high school football player. Hey, Matthew Barney played football in high school, ok? And he's married to Bjork? So lay off the football players.
Even though I arrived after 11 PM, we managed to see most of the VISIONS OF A DYING WORLD set. They are a four piece, alt-country band. I don't really have any comparisons for you because I don't listen to Wilco or any of that alt country stuff. They were decent enough in their musicianship, and the songs had recognizable lyrics, but that stuff ain't my cup of tea. They would be good opening for ROOKIE CARD, me thinks.
ENTER TELESCOPE played second. Memo to Enter Telescope: Hurry that shit up. When you are second up at Scolari's, you should require five minutes max to tune your instruments. They were a four piece that boasted a keyboardist. That's right: A keyboardist. Again, I was running up against the fact that I don't listen to a whole lot of this sort of sound, but my friend did, and she was intermittently impressed with their "Elephant 6" style sound. See I don't even know what that means. I may have her guest blog about these guys if she wants to. I would actually recommend this group to local indie rock kids. I mean, if you dig SQUIDDO, KITE FLYING SOCIETY, et al., you'll probably dig ENTER TELESCOPE. I think they're playing Zombie Lounge in June, so check them out if you dig the indie and the rock. Personally, they reminded me of Steely Dan, but that's a weak comparison, I think, emanating out of the fact that I don't really listen to indie rock.
May 14th, 2006
Show Review: Avenue D + DJS
@ The Beauty Bar, San Diego May 13th, 2006.
As I was walking out of the Civic Center Plaza in San Diego to my bank down the street, I passed the venue known as "Fourth and B". For the first two or three years that I was in San Diego, I would regularly confuse Fourth and B with On Broadway. Now I know the difference: On Broadway is the place that gainfully employs man-about-town Morgan "High Octane" Young, Fourth and B is the place that's being driven out of business by the House of Blues.
I saw there on the marquee that DJ Tiesto was playing Fourth and B. Not only, that... it's sold out. What... the... fuck. In my "weekend preview" post, I talked about how San Diego was one of the centers of the "indie dance" movement. A fair question might arise, what is "indie dance".
When you are trying to define a concept, it often helps to explain what the concept is not, which helps orient the listener to the ideas that you are trying to communicate. So let me try that approach: Sold out tiesto show at the fourth and b is NOT indie dance. Sold out Tiesto is what indie dance, in large part, arose in opposition to.
That sold out Tiesto show was on Friday night. Last night,
Avenue D
took the stage at Beauty Bar San Diego and showed us all what indie dance is all about. Two New York girls, shouting out their gleefully obscene lyrics over a pre recorded cd. Maybe they aren't as angry as Peaches, or as art school as Le Tigre, or as talented as M.I.A. But they're white chicks armed with an 808 and they ain't afraid to use it.
And that is what indie dance is all about. It's about pushing the DJ off his pedestal, smashing up his white label collection, and putting it back together with a bunch of outsiders.
Avenue D drew a hundred plus people last night. It was a good turn out. The Beauty Bar is undeniably the heart of its corner of the San Diego music scene. Most of that has do with the popularity of Gabe Vega. Pop Rocks is an undeniably solid night: Manual Scan and the Power Chords on a MONDAY night? You got the Pussy Galore on Wednesday night, Dirty Fridays, Creepy Saturdays. OK I made up Creepy Saturdays.
Honestly, I didn't care for Avenue D. Their reach exceeds their grasp. I still had a good time. Good energy- oh- and I heard
Blue Monda
y there for the one millionth time. Can somebody please put a stop to the playing of
Blue Monday
at every single indie/punk/new wave dance night?
Hard not to compare Scolari's to Beauty Bar, but I won't for fear of death threats.
Show Review:
Fifty on Their Heels, Transfer and the UV Tigers
@ TNT/MOCA San Diego 5/4/6
It's quite an event, the "Thursday Night Thing" AKA TNT at the
Museum of Contemporary Art
. Located between the trolley tracks and the train tracks, the Museum of Contemporary Art certainly occupies a location unique among San Diego's civic institutions. The location seems to have been a throw in by the developers of One America Plaza, and while it may make for an awkward museum going experience, the plaza serves as a decent concert venue.
TNT is a free, all ages event- though the margaritas being sold did a brisk trade throughout the night. The *free* *all ages* aspect of the night guaranteed a hefty turn out, and indeed, there were, to my estimate, close to three hundred people watching during the appearance by Transfer, slightly less for both Fifty on Their Heels(people coming) and UV Tigers(people going).
91X was there with a merch tent: memo to other bands making their first appearance at a 91x sponsored event- don't tell Dave that you want to sell your bands cds at his merch tent- that is his turf and he does a good job. My favorite part about the merch tent was the Sauza Tequila rep brought over a butt load of *free* Hawthorne Heights CD's. People always go for the free stuff, man. Even though it was free Hawthorne Heights cd's.
Inside, there were three separate installations- one downstairs and two upstairs. The inside highlight was the tiny orchestra. Apparently, they had a theremin(?)(that weird sounding thing you hear at the beginning of the Beach Boys song "good vibrations) rocking, so you know that was cool.
Outside, Fifty on Their Heels took the stage at 8:15 PM. They opened with the "hit single": Occupation(done been played four times in a row on 91X's "Loudspeaker" Show). The crowd was rapt with attention. Junior but on a restrained performance. Those who have attended one or the other of the Casbah appearances know how OUTRAGEOUS Junior can be on stage, but tonight it was limited to a bit of speaker climbing and a touch of crowd interaction.
I've noticed that the band is introducing more of their new compositions into their set. All the more reason to purchase the CD- some of those songs have long disappeared from the set list, and you're going to want to remember all of the tracks well into your dotage. I don't know the names of the new songs yet- they were received well. I'd wager that few, if any, in the ground knew which were the old songs and which were the new.
Fifty on Their Heels wrapped up to mild applause and it was onto Transfer. Or should I saw, "local rock band Transfer". Appearing as a semi-secret "special guest" there were on the heels of their SOLD! OUT! record release party at the Casbah. Of course we all know that the capacity of the Casbah is 300+, so as a would-be record executive, that is impressive. Also- we know that Transfer is headlining that $20 ticket show at the San Diego Office of the House of Blues- with Emery Bird and Cash'd Out(A Johnny Cash "tribute" Band?). So- I mean, Transfer is a big deal here. This was the first non-myspace listen, and Transfer definetly rocks. And by rock I mean guitar solos, the whole nine yards.
I see on their myspace that they are heading all the way out to New York this year, so they clearly have their act together. Much of the crowd appeared to be Transfer fans- t-shirts were purchased, applause was generated. Transfer's fan base appeared to be composed almost entirely of sold, respectable san diego folk: ball caps, jeans tucked into shirts, multi generational. There is no doubt in my mind that Transfer has an avid local following- probably one of the biggest for a band of their (two year old) age.
The final act was *new* *buzz* *band* the UV Tigers. My guess is that they will be signed to a major label and opening for the Tiger Army or Social Distortion on tour within the calendar year. Might I suggest HellCat Records(owned by ex-Rancid Tim Armstrong) or Time Bomb or Epitaph?
They reminded me of other local *buzz* *band* Sirhan Sirhan. The crowd seemed pretty tuckered out from the Transfer set, and cognizant of the thursday(school night)ness of the event, but maybe that was just me
All in all the night was a splendid success. Props: Jamie, for setting it up, Rosie, Nelise and crew, those guys who were at the CHOB show, local luminaries Troy "City Beat" Johnson, Vega and Saul and the Security Guards for keeping things tight.
Repost from 5/12/6:
Report from Nettwerk/94.9 "Local Artist/Management Summit"
Before I say anything that could POSSIBLY be construed as dismissive or insulting to anyone: I had great fun last night. I could spend days or weeks just talking to music professionals about what it is, exactly, they do. Last night was only two hours long but I gladly would have cancelled all my appointments for today and spent the night chatting.
Who is Nettwerk? They are Canadian record label/artist management firm from Vancouver(eh). The evening went from seven to nine. The first hour was spent listening to Terry, the president(?), spiritual leader(?) of Nettwerk give his vision pitch. Did I mention you can download this same speech via a podcast on your website? You can.
Terry spent his allotted time outlining his vision of a musical future where music would be unchained from cd's and spread out into the world. In a certain sense, Nettwerk puts it's money where its mouth is: last year they broke with the RIAA over the music consumer lawsuits.
Parts of his speech resonated with me, but it's much easier to have a grand vision when you manage/release records by artists like Avril, Coldplay and yes, the Barenaked Ladies. Some of us are just trying to book a goddamn show in Portland, OK fancy pants mcgee?
It was all good though, I ducked out to the fabulous bar(we were at the La Jolla Hilton- nothing says independent rock like the La Jolla Hilton, am I right?) after ten minutes, had a stiff drink, and when I came back, Terry sounded like he was making a lot of sense.
After Terry had finished, we broke into little groups with their own titles and speakers. Topics included: running a record label, touring, tv/radio(ha-HA!), the REAL Nashville(according to Hallornan, "Nashville has the best scene in America right now."), "DIY"(not really sure what that meant in the context of this particular firm), Publishing(where the REAL money is in music, according to Terry) and some other stuff I don't remember.
So, obviously I did "running a record label" first and "touring" second. One of the key concepts that both mini groups emphasized is that you have to generate a critical mass of fans for your music by giving the music away. If enough people in a different markets like you, eventually people will begin to contact you. That sounds a little mysterious to me, I'm more interested in forcing the issue, but it sounds like you can't. Unless, say, you have a half million dollars to use to promote, say, Avril.
Nettwerk made a big deal about emphasizing the difference between them and a major label and my response to them is: What, really, is the difference between you and a major label besides the fact that you diss the RIAA. Isn't a "major label" someone with the national and international contacts to "break" an unknown or little known artist. Isn't that what you do? Isn't that what a major label does?
Honestly, I'm not really concerned about getting Fifty on Their Heels placed on the next season of Scrubs. I'd rather focus on getting them more all-ages shows in the San Diego area. But maybe that's because I lack the right "vision".
Regardless-- if anyone hears of a similar opportunity like this one in or around the Southern California area, let me know. it was a very special evening and I thank the crew at 949: Hallornan, Owen Salerno, Tim Pyles, the morning show guy(Garrett?). You guys are great and I thought the whole experience was fantastic.
5/16/06
An Art Fag/Plot to Blow Up the Eiffel Tower/The Prayers Kind of Weekend in San Diego
These guys have San Diego on lock down. This is the second weekend in a row they've pulled this crazy shit- right? I'll check the archive for that. Hey- Plot's last album came out on Revelation records, and now they're back on locally owned Art Fag- run by Mario Orduno(see thursday). And we all know that the Prayers is Plot's attempt to have a more "rock" sound. Am I right about that? Then there's the Vultures project- also on Art Fag. And then peep the "Some Girls"-- another plot side project? These are like, enough plans for world domination. Fifty on Their Heels played Casbah earlier this year with The Prayers and Sirhan Sirhan- fuck, that was a line up, right there. And it was free. So, I'm mulling this list. Not sure about that friday night four band bill at the Ken. I haven't been to Transport in forever- always a good time. I dunno.
The Listings:
Thursday 5/18/6
Skull Control
@ Livewire
Mario Orduno(Owner, Art Fag Records)
Sir Charles(Plot, Some Girls)
Friday 5/19/6
The Kensington Club
The Teeth
The Prayers
Delta Spirit
Digital Leather
Saturday 5/20/6
The Prayers @
Transport
w/ DJ Gabe Vega & Saul Q.
10 PM
May 17th, 2006
Go Go Go Airheart Breaks Up
This is a re-post from Go Go Go Airheat's myspace account:
hey friends,this is my reply to a reporter friend who asked if the rumours about GGGAH breaking up are true, and also what are we going to do with the unreleased stuff: hey bart,We have boldly gone where no band would logically go, and yes it's time to put it down for a while. Maybe not forever but indefinitely. Money has a lot to do with it of course, after almost ten years of doing GGGAH we just can't keep living on the cheap. We live in different cities and it costs money to drive to LA or Long Beach for practice! As Ashish likes to say, "we are go go going broke!"We're all over the map musically, crossing genre's at any given moment, it's hard to market us, and we never really focused on the business end with any real intent, We were more intent on having a party and putting on a memorable event, and isn't that how it should be really? Well maybe not entirely... a little more attention to business could've gone a long way. Anyway, yeah, the show this Monday (tonight) at the Casbah will be our last. Playing our last show there is fitting, since that venue has been pivotal in all our lives, Tim Mays gave us a residency (weekly regular gig) back before we deserved a gig on a local band night. We practiced at the Casbah all the time and even recorded that Queen cover "Death on Two Legs" on that stage for the 31G compilation "Dynamite with a Laser Beam." And I have worked there almost as long as I've been in the band! As far as the unreleased material, we might release it but most likely we will post downloads for free on our website. There is some amazing material that never came out, especially the stuff John Reis did for us sounds tough as nails so I would hate to have it wallow in obscurity, I mean more so than our officially released records haha! . Personally I'd like to release it on some label that pays us for it so we can pay back John because i think we still owe him for those recordings! But that's typical of us, not paying attention to the business end. I'm a little sad but also relieved that the band is done, end of an era and all that, but at least I can say without any reservations whatsoever that we never put out a shitty record, and we never sold out to The Man. Thanks to all our friends.peace out,andy the drummer
Flyer #1: Charles Rowland and the Vultures(thursday)
Charles Rowland and The Vultures Flyer number 1
May 30th, 2006
Show Review: Manual Scan & The Power Chords
@ Pop Rocks 5/29/6
The Power Chords have got to be the hardest working band in San Diego right now. They play every weekend. Sometimes two shows a night. They are among Cat Dirt's favorite bands going right now(please note, I did not say "San Diego" or "local" because I believe they are among those bands who need no such qualifier). Their demo CD has already vaulted onto Cat Dirt's Top 25 list on the Cat Dirt house I Pod(Unattached Strings #5, The Fuse #20). Their first professional recordings is slated to be the first release on Nashville's newest, hottest record label: Mean Buzz. As Hallornan said at that seminar I went to a couple of weeks back, "Nashville has the hottest scene in America right now." (I actually wrote that quote down when I heard it)
And of course they're playing a couple shows with Cat Dirt's own Fifty on Their Heels. The show last night was Tim Pyles "Pop Rocks". The Power Chords brought the thunder, and played a couple of new songs: one was called "dots", I think the other was "dream girl". They are solid.
Photograph of said power chords: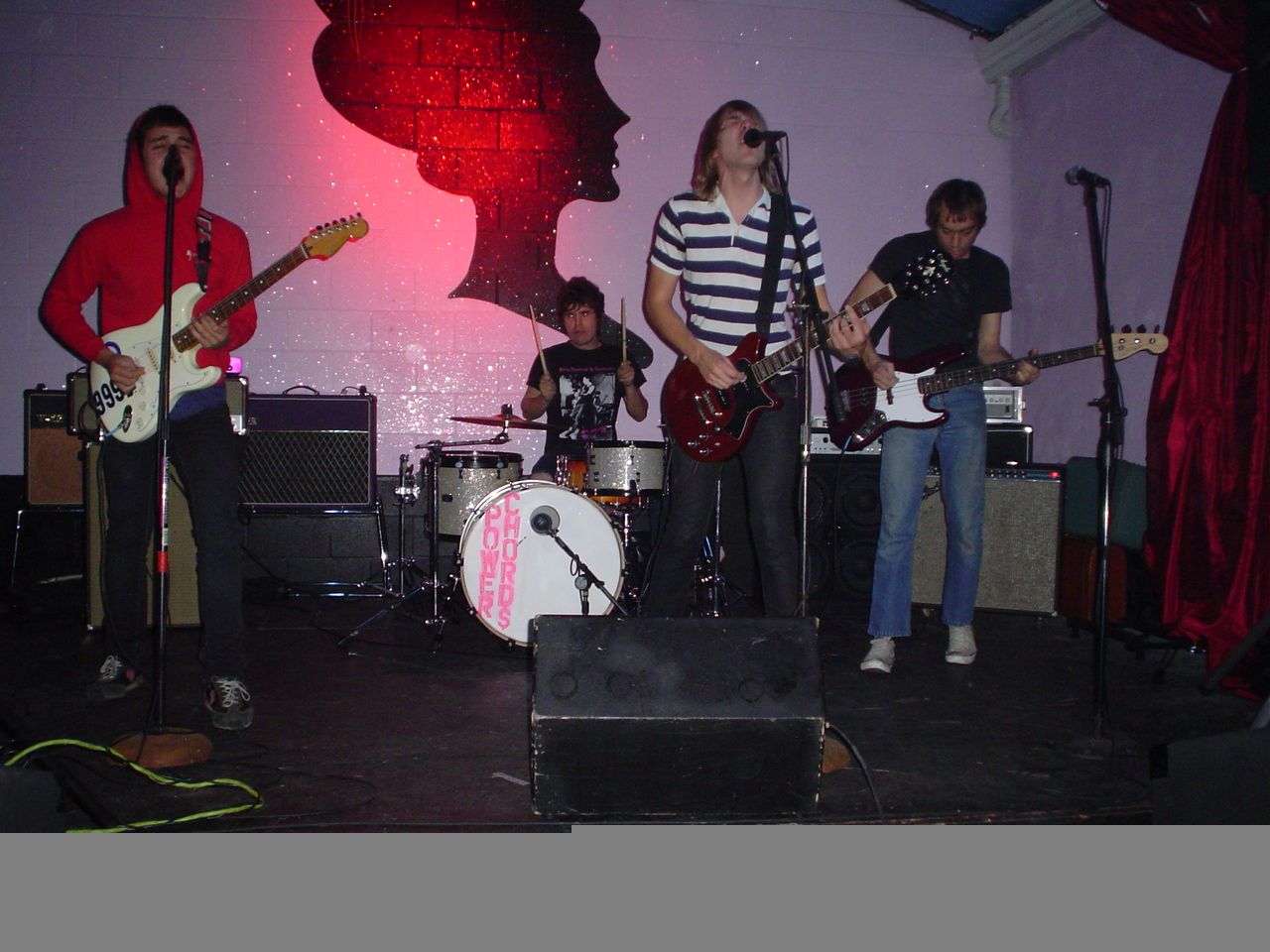 so dreamy.
After the 'Chords vintage rockers Manual Scan took the stage. Manual Scan is fronted by San Diego Union Tribune entertainment writer Bart Mendoza. Although I'm unfamiliar with their music, I not similarities between their sound and the Power Chords sound: lead guitar punk influence rock and roll. Did I mention Morgan Young was on drums? He looked physically exhausted by the end of the set. Hey Morgan, what are you going to do when Mercy Mercy opens for the Stones on their next American tour?
The cat daddies in Manual Scan:
The San Diego band Manual Scan *2005-2007, performing live.
So there you have it, another Monday night at BBSD. I don't know whether Pop Rocks is happening in June- I may check out Lady Dottie &he Diamonds at the Tower Bar next Monday. After the tour de force rocking that Society gave the Casbah on Sunday night, I feel like Lady Dottie and the Diamonds deserves an honest appraisal.
June 15th, 2006
Show Review: The Duke Spirit, Delta Spirit at the Beauty Bar
The first thing we noticed was the incredibly professional merch table of the Duke Spirit:
You see that set-up? Wow. Just... wow! We bought both CDs AND a T Shirt, we were so impressed.
Opening band was San Diego's own The Delta Spirit(playing a Cat Dirt Presents bill with The Sess an Qu'est ce qu-est @ SDSC on 7/11). This was Cat Dirt's first listen and they are... bluesy and rocky. Would be good on a bill with the Sess(done) and would also go well with soon-to-be-huge Grand Ole Party. Maybe we can get the three bands together in August or September.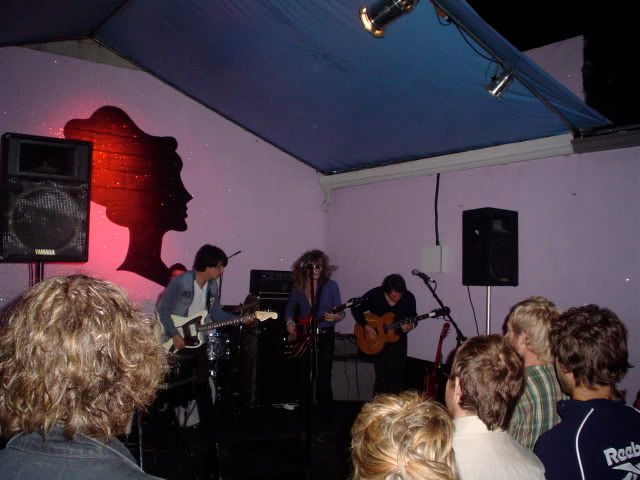 They are "jamming" right now.
The Duke Spirit headlined. You may have seen them at a little concert called Coachella- although Cat Dirt missed them- they were on too early in the day for Cat Dirt. Here is their
wiki page
.
The merch guy said they were going to be on the Conan O'Brien show this week- but Cat Dirt couldn't find that listing. Cat Dirt also learned via the merch guy that they were supposed to be touring with Snow Patrol, but that got cancelled. Check out the New Music Express(UK) article
here
. I suppose Cat Dirt should have known that already, but I try to fade out news about rock bands from London and Brookyln.
In case you don't know it, the thing about the Duke Spirit is their peppy Eng;lish female lead singer. She's neat-o. Cat Dirt will review the CD here some time down the road- maybe not until july, since he's leaving town soon.
Here is a post from kewl blog "My Old Kentucky Blog" or "MOKB" for indie rock loser/nerds.
The Duke Spirit on MOKB
Tim Pyles showed up about three songs into the Duke Spirit set. Cat Dirt took this picture of Tim palling around with local celebrity asshole Junior Metro, who also took over the 1's and 2's along with Mario Ordono(owner, art fag records and Brandon(plot to blow up the eiffel tower). Turn out was good.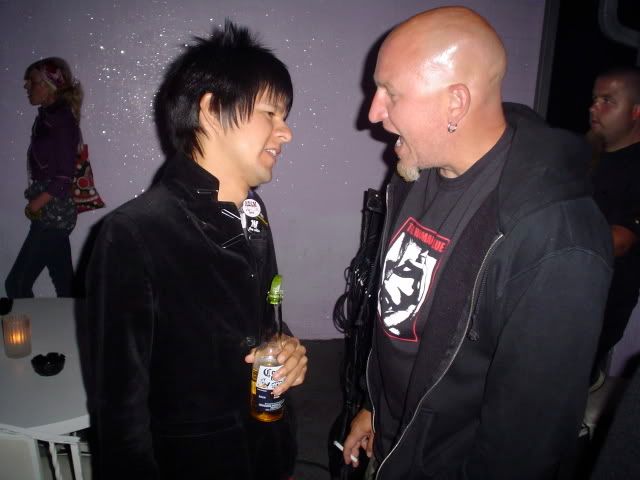 Caption: "Thanks for getting us that headlining show at the Casbah with Manual Scan, The Power Chords, Atoms & The Sess (and Vinyl Radio in the Atari Lounge). It's going to be an awesome show on 7/30! And the second Chicken! is on 7/29! What a great time! You're the best, Tim Pyles!"
Event Preview: Poupee de Son @ La Fleche D'Or
I'm really looking forward to going to Poupee de Son and seeing some Ed Banger DJ's!
"dance or die"
FRIDAY 6/30 in Paris, France:
Cheenah(UK)
Blondelle(UK)
The Social(UK)
Popklub
Arsenal(Fr)
DJS
Gaspirator(Justice/Ed Banger Records)
Vicarious Bliss(Ed Banger Records/Skint)
Soiree Zero #2
starting at Midnight
Poupee de Son(Club night/Myspace/Paris)
Fleche D'Or(club/web/Paris)
http://www.flechedor.fr/
Basement Jaxx @ Cafe Moskau(Puma) in Berlin on 7/9/6
The weather that day was hot and sticky. The image I had in my mind about the weather in Berlin came from spy films: leather coats, berets, breath visible in the wind. Instead, it felt like a summer day in St. Louis, with a nary a breeze to cut the oppression. Keeping a dry shirt was out of the question.
First we went to see the world cup final at the fan mile in berlin, with about a million people, give or take a hundred thousand or so. it was a let down compared to the third place game, featuring GERMANY crushing Portugal in dramatic fashion, which was a blast.
Then we went to see Basement Jaxx at Cafe Moskau. It was sponsored by multi national (Italian based) corporation Puma, which provided a full slate of free shows. I surmise from the photos in the nearby U Bahn that
Cafe Moskau
was a glitzy spot for the communist elite, so if you can just get that swanky, cool vibe: russian gangster, eastern european communism, and, of course, basement jaxx, who Ilast saw at Coachella 2005- where they were GREAT!
Club Moskau in the former East Berlin, after Italy won the World Cup in July 2006.
Things you need to know about the scene: a lot of Germans on e. italy won the world cup, and puma is an Italian firm, so all of the corporate vips are also on e. And Basement Jaxx was AWESOME! They played to a packed house for over two hours.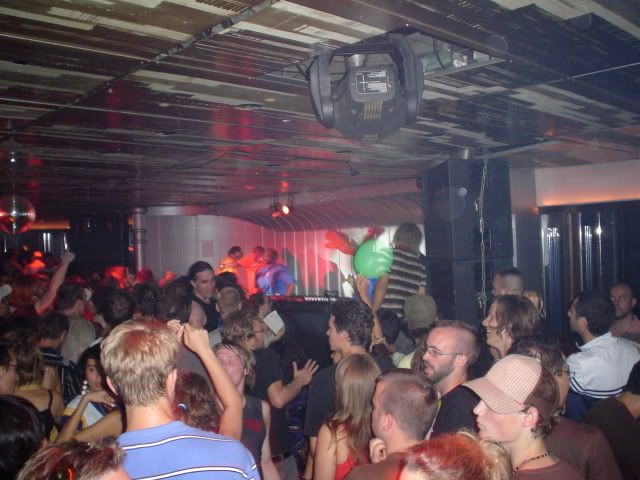 Club Moskau in Berlin, the night Italy won the World Cup in 2006.
The club itself was super cool, as this below photo shows. Also, check out the ceiling in the above pictures. I mean, the place was designed the east berlin political elite circa the 50's? 60's? 70's? It's underground- a secret labyrinth of decadence whose existence was kept from the people of east germany. This is all surmise- they had some killer photos of the way it "used to be" at the place- including photos of cafe moskau back in the (communist) day.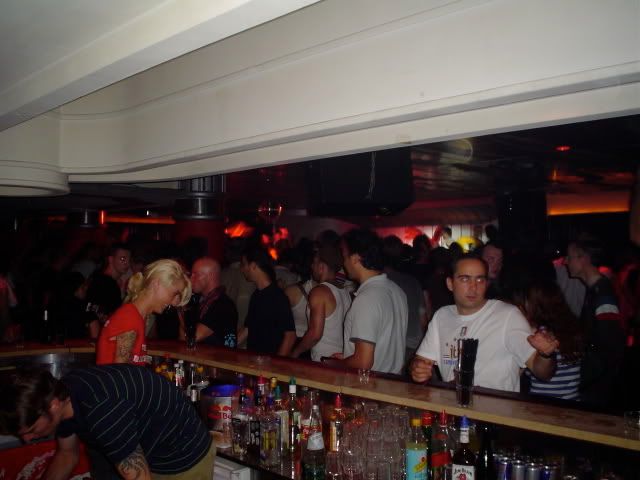 Club Moskau
I just think the design of the bar is super cool. We were hanging out in the back corner with a couple of canadians, who shall remain nameless, but were pretty cool. they seemed happy just to see people who spoke english. anyway, the guy works in the world of music, which was interesting- he had worked with ministry of sound in london and nettwerk records, in canada. has other business interests, etc. Only in Berlin! On the night of the world cup! at Basement Jaxx!
So that's one part of the trip.
Other trip highlights:
Poupee de Son Show Review(Paris, France) July 2006
Panorama Bar(Berlin, Germany) July 2006
July 2006: The World Cup, Berghain Show Review, Pompidou Center LA Art Show Review
7/18/06
Show Review:
Grand Ole Party, Fifty on Their Heels & MC Flow
@ Damien Presents A Cat Dirt Records Showcase/
@ San Diego Sports Club
Kristin Gundred, playing in San Diego band Grand Ole Party in 2006.
Well, it was pretty crowded for a Tuesday night, $5 cover or not. It became clear to everyone that it would be better for Grand Ole Party to headline. That was certainly true! It was super crowded for Grand Ole Party- with guest list attendees there must have been more then 150 people in the audience.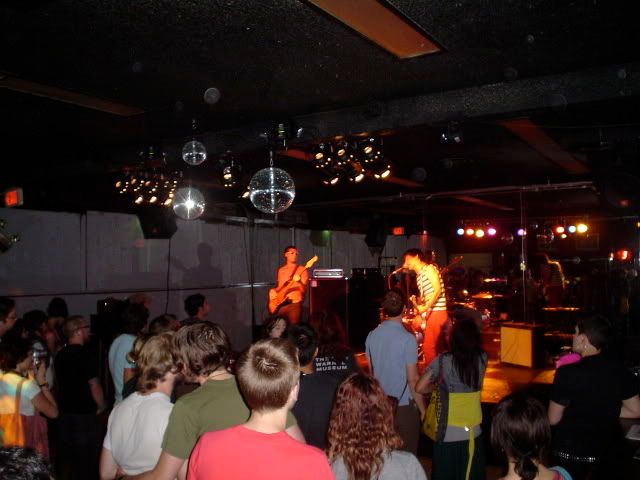 Fifty on Their Heels @ Sports Club
Fifty on Their heels put on an amazing set. Apparently, Junior's nose was bleeding the entire time. Luckily, we had edgartronic snapping photos from the front row- hundreds, allegedly, so there should be some good pictures coming out of the performance. I just snapped this pic from the back to give a sense of the size of the room to other bands and interested parties- I'm standing near the back of the room, here.
MC Flow @ Sports Club
Flow's mom was there- I'm going to drop those babies later on- she even had (as Flow pointed out on stage), "some of Flow's jewlery on." That cracked me up. Flow's mom was totally into the whole thing. Flow and I had a good talk about conservative v. reform v. orthodox judaism. That barely ever happens in San Diego! Anyway, Flow brought the thunder--
again.
(link to Cat Dirt Sez 5/23/06 Review of MC Flow in Concert @ BBSD.)
And I really have nothing more to say except- the show was done before 1 AM- an important component of success for any mid week show in San Diego. Grand Ole Party can draw 100 fans like, automatically. MC Flow has a cool mom, and no, there was no advance planning of the bleeding by junior- that's just the punk rock in him. We will hopefully be back @ the Sports Club on September 30th with a three band bill, but we'll have to see.
Also: I will handle the Kite Flying Society
article
in this week's city beat when I get around to it- these things take time. Out!
September 2006: San Diego Music Awards, Plot to Blow Up The Eiffel Tower Breaks Up
someone who was at sessions fest put up these great fifty on their heels pictures on flickr. there are also some non-music shots of the event. go. check. it. out.
Fifty on Their Heels Pictures from Sessions Fest
Event Preview
Fifty on Their Heels & The Sess @ Zamakibo in Los Angeles on Friday
Flyer for Fifty on their Heels, The Sess & The Vacancy Trip on September 15th, 2006 at Zamakibo in Los Angeles, CA.
2007 Coachella Review: Coachella Style,
The Trucker Hat is Dead, Long Live the Army Cap!
Sigh. I literally never get tired of looking at that photo.
OK- this my 2007 Coachella Review "Style Round-up" and I just wanted to do a quick run down of the fashion trends I observed at Coachella.
1. I didn't take that picture of Cory Kennedy until Sunday afternoon, BUT on Friday and Saturday everyone in our party made dozens of "Cory Kennedy" sighting that were false alarms. A "Cory Kennedy" sighting typically entails a rail thin girl with shoulder length brown hair (straight), oversize sunglasses and a thin head band of some kind. Of course, the oversize sunglasses is not Cory Kennedy specific, but that was the look we saw a bunch of.
2. The memo on trucker hats has been disseminated. Not even the rage against the machine guys were wearing them (!) They have been replaced by the "army cap" which is a fitted cloth hat, usually in a dark color, with no logo or type of photo or anything. v. v. basic. Literally, every other person at Coachella (guys n' gals) had one.
3. Skulls! Skulls on t-shirts! Skulls on hats! Skulls on dresses! There are even t-shirts that have dozens of different skulls on them. Skulls. Skulls. Skulls.
4. Mini Dresses with boots. Dozens of sightings, espech in the VIP tent.
5. Guys with waxed torsos. Not technically a "style" but I saw so many dudes with their shirts off and perfectly hairless torsos, I had to take note. Impossible to ignore. Guys- put those shirts back on!
6. Wearing your 2007 Coachella Rage Against the Machine Shirt BEFORE they've played. Again, I saw this at least one hundred times on friday and saturday. What's up with that? You haven't even seen Rage yet.
May 2007:
Show Review:
2007 UCSD Sun God Festival
w/ T.I., Third Eye Blind, Ben Kweller, Fifty on Their Heels, and MC Flow
Hey you know what the 2007 UCSD Sun God Festival was a rip roaring good time! And a total sell out! And the "biggest sun god festival ever" and, as much as I HATE to admit it- it was likely due to the unconventional choice of third eye blind as co- headliner- a decision made my budding promotions impressario kevin highland. highland, a ucsd undergrad displayed impeccable decision making powers in booking the line up- which also featured t.i., ozomatli, ben kweller, fifty on their heels & mc flow. take note of this lad- kevin highland. he would make an excellent intern at the casbah, house of blues, 94/9, 91x, etc. I've got his email if anyone is looking.
The extended Cat Dirt posse rolled up at precisely 5 PM- we in the Cat Dirt family of artists pride ourselves on punctuality. That comes from a couple of years of putting on OUR OWN outdoor concerts- like, say, Sessions Fest- coming again this september. You need to have the opening bands on point and on time or that can create problems on the back end. More then anything, I wanted both Fifty and Flow to be ON TIME.
The mostly student staff was most kind, very appreciatve and not at all assholes. Really- they were very professional and put I don't know, say, the House of Blues? to shame. TO SHAME.
They had a sweeett "green room" it's where they give the artists and crew food and drink. No booze, but good food. and coffee and that was pretty cool. T.I. didn't even show till 930 and Third Eye Blind was um... not being social.
The first act was the battle of the bands winner from UCSD- they had their own banner and good merch, they had a straight up white boy reggae/ska sound which is like "meah" for me.
MC flow was the first act on the main stage- the main stage was fucking enormous. I think Kevin said it was the same stage they used at Street Scene. I don't even want to know what that costs. But Flow was pretty stoked and despite some mild, turntable related drama, everything went smoothly (note: it is NOT ok to "borrow" ti's turntable rig- that shit simply does not fly).
MC Flow put on a sparkling set. She seemed energized by the atmosphere, even though the crowd was, at best indifferent. The crowd was still "arriving" up until halfway into the third eye blind set/extended jam a thon- which was about 10 PM. It looked like getting in was a total nightmare because of all the security they had. Seriously- I've never seen so much law enforcement and security but the show was a total sell out.
Fifty on Their Heels went on right after MC Flow. They used two stages- main and side, and the next band went on as soon as the band on the other stage finished their set. So, MC Flow was on the main stage, finished, and then fifty on their heels show. Again- a great set. I really didn't feel like there was a whole lot of difference between the "local" and "touring" acts, except, of course, for audience appreciation Ben Kweller, who was next on the side stage, enjoyed the Fifty on Their Heels set, and said so on stage during his set ("keep you eye out for the band that played before me. they're great.").
After Fifty ended their set on time, I breathed a sigh of relief. We had delivered our opening sets on schedule, and that was really all I cared about.
The band after Fifty on Their Heels was touring with Third Eye Blind. Strike one! They had a fucking jar begging for money so they could raise $15,000 to record their first record(!)(!). Are you fucking kidding me? A fucking tip jar? Asking for 15K to record a cd? Fuck off. If you want to spend 15k on your first record, spend it, but don't beg from fans when you're on the road with third eye blind. have some dignity.
Ben Kweller played- he was good, great crowd reaction- mentioned fifty on their heels (sort of) on stage, people loved him. He was pretty good. Not really a fan, but I came away from the perf. with new found respect for Ben Kweller. Got some good pictures of him.
Next was Third Eye Blind and man- was it fucking bonkers for these cats. Who would have thought? The crowd was hanging on every word of Stephen Jenkins. He was alot...um... fatter? Then I remember from the semi charmed life video. He was clad in jeans, tucked in t-shirt(!), velvet jacket(!) & belt.
Because I care so much, here is the set list, procured by Tania of Sound, Sound, Sound (our guest).
Third Eye Blind 3eb Set List from UCSD Sun God Festival 2007
1) Losing a Whole Year
2) Crystal Baller
3) wounded
4) narcolepsy
5) never let you go
6) 1000 julys
7) graduate
8) deep inside you
9) motorcycle drive by
10) summer town
11) jumper
12) jumper
13) semi charmed life
encore
How's it Going to Be
(Slow Motion and God of Mine CUT for time concerns)
Now what is there to say about Third Eye Blind. Woof. Where do I even start? First, do you see how song 11 and 12 are both "jumper"? That's because the song was stretched out to 10+ minutes to include BOTH an insufferable guitar solo AND a lengthy, and totally unnecessary drum solo. No lie. Man oh man. He wore a top hat? With his velvet jacket? For a couple of songs during the set? Yeah. Top hat.
Jenkins expressed appropriate concern for the kids who were being crushed to death due to the incredible fan enthusiasm. I was quite taken aback at the level of fan enthusiasm for Third Eye Blind, but in retrospect, it looks like genius booking. These kids were singing along- for whole verses. Crazy.
That does not change the fact that Third Eye Blind seems like a pretty douchy bunch of cats. My personal highlight came when I was in the area between the stage and the fans- the photography pit, basically-- and I personally wtinessed a disreputable looking roadie (procurer?) walk from being on the stage, into the pit, and hand out third eye blind passes to three YOUNG looking girls. Um yeah. AND then I took pictures of the girls- see if you can find them in my flickr photo set- worth it to see how YOUNG those girls looked. Aight?
Near the end of the set I moved in between the stage where 3eb was finishing up and the stage where Ozomatli was about to play and waited with Kevin for 3eb to bring it down. Did I mention their huge "THIRD EYE BLIND" glowing sign that was hung behind the stage? No? Well they had one. Ultimately though- Third Eye Blind sold out that show, and that is all you really need to know.
Ozomatli was next. I was impressed that they had their own fans there, but personally- I'm not a big fan. There is just too much going on. I like to be able to focus- and I really don't like multiple rapping vocalists unless strictly necessary. Too "busy" I guess.
Watched the cops drag out dude after dude in hand cuffs- under cover buy/bust operation? Hey dudes- don't sell grass to old guys- those old guys are cops!!! Lesson for X fest/Indpendence Jam- I like how the cops are making busts at the ucsd sun god festival- that's so fucking classy. fucking cops. But if you deal drugs at a concert you deserve whatever you get.
So that brings us to my personal highlight- seeing T.I. in person. T.I. is just on my list of acts I want to see- like Lil Wayne, Young Jeezy-- I mean i LIKE what I've heard of T.I. on record. He seems possessed of a certain charisma and style that sets him apart. I wanted to get a good back stage photo of him taking the stage, but man- black hooded sweat shirt, large posse, and he's about 5'4". so small! like t.i.n.y. but seriously- he was really great. beats sounded great- delivery was on point. So yeah. Thumbs up on T.I.
Didn't stay for the whole set, but I do believe I might to pay to see him again if it was part of a larger bill, perhaps with Lil Wayne? I dunno- I liked T.I. He's just got a big things going on.
Show Review:
Grand Ole Party & The Muslims
@ San Diego House Party Central
Armed with ye olde catdirt cooler of beer (the meager catdirt contribution to a rocking night, hey, catdirt is a giver), it was with eager anticipation that I attended the Grand Ole Party/Muslims "Vs." rivalry house party last night. Amanda and Heather are the two ladies behind this whole concept, and they deserve immediate commendation and elevation into the upper echelons of San Diego night life based on what I observed last night.
These observations included:
1. A packed house- with people paying a $5 cover--- at least 100(?) people in a small two story house.
2. An amazing line up- Grand Ole Party and the Muslims- are you kidding me? I can't get Grand Ole Party to play one of my shows, and they got them to play a "basement'(really more like "storage space"). okay, well maybe i haven't asked grand ole party since the embarassment of the canes / non-prophet show of last summer, bummerfest.
3. A generally good looking crowd having fun that included all of fifty on their heels, members of vinyl radio, swedish models(ex-cape may) and a bevy of scenesters and faux-hipsters- including one young lady who dressed up like Kristen Gundred of Grand Ole Party and actually looked like her!
My recommendation:
1. Make sure these ladies get their own monthly (at least) at a good club in town... Ken Club? That would be fun.
2. Continued attendance at their awesome events- mr tube and viewmasters coming up on june 2nd. yeah!
I had a chance to speak with Mike, the bassist from Grand Ole Party. He could neither confirm nor deny the supposition that Grand Ole Party will be going on tour this august and september with Rilo Kiley (national! tour!) but based on the following established facts it makes sense: GOP and Rilo Kiley share management/record label (3d management/unnamed record label), Rilo Kiley has Jenny "hottest woman in indie rock" Lewis, Grand Ole Party has Kristin "soon to be marketed as next hottest woman in indie rock" Gundred- so the cross promotional/introductory elements are there. Annnddd... Grand Ole Party has been dropping myspace related hints about a forthcoming "big announcement" for august and september.
So don't be too surprised if and when it's announced.
I really see these house parties as more of a "chance to mingle with local musicians and like-minded folk" and have a good time than a "chance to see local musicians perform", since there are um... issues... with the performance space, it's no art bar (former strip club) in vegas with clear lines of sight from everywhere, but its a totally successfully realized house party, full of good people having a good time listening to amazing san diego bands. Total fucking triumph, let's do it again, ladies?
some thoughts on "what it takes" to be a succesful big venue headlining rock act
I saw some prototype "front men" this weekend at the UCSD Sun God Festival & 91x X Fest this weekend. Specifically, Stephan Jenkins of Third Eye Blind, T.I. (not really "prototype" or rock, but still), Bert McCracken of the Used & Deryck Whibley of Sum 41. Hear are some observations I made, feel free to incoroprate into your band as needed:
1. When I see a band in a club environment and they have a lead singer who does nothing but sing I'm like "lame!" However, when I go to a big rock concert and I see a lead singer who plays guitar and sings at the same time, I'm like "lame!" I think when your band starts playing bigger venues, you really need a lead singer who is unencumbered by a guitar so he/she can devote all their energy towards the crowd.
2. "Broad gestures and posing is super important." Man, if you want to wow a crowd of five thousand plus, you had better jump around, strike poses and generally have a routine or otherwise people won't pay attention. It's like, sing lyric, pose, move around, lyric, wave arms at crowd, lyric, another pose, move to back of the stage- etc. That shit needs to be ON POINT or otherwise you will be a boring arena rock band.
3. I think it is kind of analgous to professional sports players who skip college, in that you are used to playing in a high school gym, then you start playing in the minor leagues, and then eventually you get to the major leagues and everything is... bigger... brighter... faster... etc. But the thing is- if you get to that point, you want to be prepared. You need to be ready to play the big stage.
Skull Kontrol Launches Blog; 91x Loudspeaker Moved to Radio Graveyard
Congratulations to 91x's Loudspeaker, who I hear is moving to the coveted (coveted!) 1 to 3 AM sunday night spot (from its present 6 PM to 8 PM slot). There is no doubt that this is a sure promotion, from the boring 6 to 8 PM position into that high ratings 1 to 3 AM in the morning bonanza slot. Congrats to 91x and Loudspeaker for making that bold decision to highlight local music. Well done!
And... Pleased to announce that Skull Kontrol has a new blog. If you don't know Skull Kontrol, you should. They are the best dj/promotion collective in San Diego, with impeccable taste and equally impeccable indie/punk/post hard core/noise credibility.
Skull Kontrol (blog)
June 2007
skull kontrol/cat dirt presents 7/7/7 DANCE PARTY
October to December 2007: CMJ, the San Diego Fires

Cat Dirt Sez Cited by Le Monde: Twice!?!
Check out this cool article in a little periodical I like to call Le Monde. Here is the
link
. I'm quoted twice- whoop.
Quotation One:
Le 24 octobre, Paul Kedrosky indique que cinq cent treize mille habitants de San Diego ont reçu l'ordre d'évacuer. "Une des plus importantes évacuations dans l'histoire récente des Etats-Unis", estime-t-il. Sur Cat Dirt Sez, l'auteur ironise sur les propos du présentateur de la chaîne NBC qui a annoncé à l'antenne qu'il s'agissait du plus grand déplacement de population depuis la guerre civile. "Tant pis pour toi, Katrina ! Nous sommes les premiers !" s'exclame-t-il.
Translation: October 24, Paul Kedrosky indicates that five hundred and thirteen thousand inhabitants of San Diego received the order to evacuate. "One of the most important evacuations in the recent history of the United States", estimates it. About Cat Dirt Sez, the author is ironical about the remarks of the presenter of the NBC chain which announced with the antenna that it acted of the greatest displacement of population since the civil war. "So much worse for you, Katrina! We are the first!" exclaim it.
Quotation two:
Cat Dirt parodie, lui, les propos tenus lors d'une conférence de presse par des responsables officiels. "Nous devons nous féliciter de faire un travail aussi fantastique. Et qu'en est-il du gouvernement fédéral ? Nous les remercions pour... avoir dit... qu'ils sont là pour nous."
Translation two:
Cat Dirt parodies, him, the remarks made at the time of a press conference by official persons in charge. "We must be pleased to do such a fantastic work. And what happenhappen does federal government? We thank them for... for having said... that they are there for us."
CMJ 2007
Well the fire sure pre-empted my planned "CMJ week." I guess it is time to return to normalcy. This last week certainly changed my perspective on my trip to new york, in a truly obvious way.
New York was a blast, though I was more concerned with having a good vacation then making it a networking success. People were like "why go to cmj" and i'm like "because its very easy to network in the music industry" but I managed to not really even contact the two people with whom I could have met up with. Ha-ha I'm sooooo bad. But I guess I wanted it to be more of a vacation, and man was it!
I was pooped even before the fire hit home on sunday evening. So I'm going to move forward with the CMJ material. I'll monitor the fire zombie/witch & "free stuff for fire victims". I don't want to TOUCH the whole Ramona situation. Journalists- you may contact me for quotations on the matter.
Show Review:
Yo La Tengo'
@ MOCA La Jolla
A few words on La Jolla... first of all, class segregation by the rich is ipso facto proof of the lack of sophistication among a ruling class. That's why the best estates are in the third world! Similarly, in the most sophisticated cities in the world, the wealthy live in relative proximity to the non wealthy. See: London, Paris, Berlin, New York City, San Francisco. If you want to see what makes a world class city, go to San Francisco and stand in the "Tender Nob" i.e. the intersection of the Tenderloin and Nob Hill. La Jolla embodies self-segregation by the rich. Economic integration of different classes is a key for success in western civilisation. The further away you get, the more out of touch you are.
The La Jolla MOCA is a very nice space, airy and fairly announcing its "post modernism" to anyone who'd care to look. I'm glad La Jolla has its own Modern Art Museum - you can hardly expect the wealthy to come downtown, the MOCA downtown is by a train station for chrissakes! how common!
I'll confess that I "married into" my Yo La Tengo fandom. A SF show at the Great American Music Hall some years ago was the locale of a first date with CDW. we then saw them again at "this ain't no picnic" in irvine in a 100 degree cowfield or something - I think they followed the blue man group (yikes!).
anyway, Yo La Tengo is one of the iconic independent rock bands of the past twenty years (they started out putting records in the late 80s?) Along the way they've scored film soundtracks, brought Hoboken back from artistic irrelevance and maintained a recording/touring schedule that has guarenteed both their lively hood and a certain level of artistic freedom. In short, Yo La Tengo is any indie role model, so I was avid about the prospect of the format last night: songs interspersed with q & a.
Did I mention there were seats? Yes. Key point.
Basically what happened was Yo La Tengo played a song or two and then took questions from the audience. It's like how I imagine an episode of VHI's storytellers or perhaps that "the craft" series that 94/9 does at the Belly Up. However, it was executed a lot more comfortably than I would have imagined. Several moments felt like an actual dialogue / anecdote sharing that you would experience with the band if you were just hanging out at some bar.
The audience had an average age well in advance of 30, with a sprinkling of college age kids and some young childen(!) In fact it was a girl of 5 who requested their current single "Mr Tough" eliciting a knowing chuckle from the lead singer, Ira Kaplan, "Most of our fans are too cool to ask for the new stuff."
The question and answer segments was cool, revealing the humor and history of the band. James revealed himself a big fan of the movie Pootie Tang, who isn't? And the band talked bout the making of their music, music comes first, lyrics later, lyrics draw heavily from "angst" (its a go-to spot for lyrics says Georgia) and their awkward, misguided youth (Ira).
The q and a did have a few awkward moments:
Q: What Do you think about Sonic Youth?
Ira: They are a band that shadows over everything we all do, that's how big they are.
Yikes! Is there a Sonic Youth/Yo La Tengo grudge somewhere back there in the mists of time? It makes a certain amount of sense- in the hierarchy of american independent rock from the 80s to the 00s, Sonic Youth has maintained an outsize presence on the landscape (despite low album sales), while Yo La Tengo has avoided the Manhatten spotlight, the clothing label forays with the Beastie Boys, the glitzy "Free Tibet" Cause o Thon.
The music itself was fantastic. Loved sitting down! Overall I was impressed both by the professionalism of the venue and the band itself. It was a great way to spend a sunday night. Too bad that museum is in La Jolla- it should be downtown (and yes, I know there's a branch of the MOCA downtown, my criticism remains the same).
Show Review:
"The" Fest
@ The Casbah 10/5/7
It is accurate to speak of having ones faith restored by a certain experience. So, it is both fair and accurate to say that the performance by the Sess last night restored my faith in local music. If you look at the picture above- that was taken sometime in april or may 2006 at a house party in university heights. So a year and a half later I have to say that the Sess sound amazing-- but different then they sounded a year ago. There was a power and originality in the music that I heard last night that was a tantalizing glimpse of a big stage ready rock act. And their 7"? IS. AMAZING. The Sess have taken a huge step forward. And I was told that the full length was "almost done". If that is indeed the case- produced the same way the 7" was produced, with a similar style. Watch out. People should want to get their hands on the disc, is all I'm saying. They should WANT to hear it BEFORE its released, if you know what I mean.
I think last night was a significant statement of the power or should I say, "dynamacism" of the independent music environment in San Diego county.
Let's review the bands on the bill last night: The Prayers, The Muslims, The Atoms, The Vultures, The Sess & The Sundelles.
So dispensing credit: the bands! Mr. Rowland of the Vultures, Mario Orduno, Tim Mays. I'd say last night was a credit to all involved.
I think the Casbah needs to be acknowledged as stepping up its game and generally demonstrating a level of ambition and support for local music that, frankly, shames other local venues. Having shows like that on friday as opposed to tuesday is a big, big difference. The sound was great, too. Tim Mays was actually there for part of the night! I never see him at the Casbah.
The crowd was very good. Not Grand Ole Party/Scarlet Symphony good, but def. crowded and energetic. Crowd energy is an important factor in creating that desired emotional reaction/connection with the music. The spirit. I think keeping that energy level high is the great difficulty in generating greater attachment. The ambition of the fest was the key to its success. That, and the choice of acts. Every act I saw last night should be working on recording a full length record, and then making sure people hear it, and then releasing it themselves and touring in support of that record the following 12 months. EVERY SINGLE BAND. Let's get some full lengths recorded, people!!!
Show Review:
Wild Weekend
@ Swami Sunday Mass (Bar Pink Elephant)
I think I probably should have taken the chance to introduce myself to John Reis, but I just don't want to bum him out with my uncoolness. I FINALLY made it to the Bar Pink Elephant, San Diego's new alt-hot spot. Pink Elephant is located on the 30th street north park corridor, which is turning the corner in my mind. Let's see, Linkery, Zensei, Blue Foot, Commonwealth Cafe, Lefty's, Chasers(!), Union Bank, Bar Pink Elephant, Scolari's, Rancho's veggie mex joint and coming very, very soon, Mike from Jezebel's new boutique Pop! (on Lincoln). And I'm not even counting Off the Record.
Pink Elephant has markedly improved from the sorry "Dino's" which preceded it. I read one or two reviews questioning the viability of the location, but those writers are way off. Personally, I think it's a great location. Sunday they're doing Swami's Sunday Mass, which is a matinee show featuring one local band. So far, John Reis's taste has been impeccable: The Sess, The Atoms & Wild Weekend. Un chapeau, Mr. Reis. I quite enjoyed myself this afternoon.
I think it's fair to say that Pink Elephant represents the only possible threat to the Casbah's monoply on "venues that don't suck nuts" in San Diego. I think it's also fair to say that the booking policy is, shall we say, a tad predictable. Given ten minutes, I bet I could draw up a list of every local band that will book a show there between now and the end of the year. Certainly, I admire the restraint, and I think the taste overlap is probably in the neighborhood of 50% or higher, but I'd like to see a little bit more. More shows, more frequently, etc.
But who am I to complain? The Pink Elephant is a clear "winner". And it's nice to be able to listen to John Reis dj in person at 2 in the afternoon on a sunday. I think, in all honesty, that John Reis is as close to a viable role model that a San Diego musician can possess, and for that he deserves respect.
Book Review: Against the Day by Thomas Pynchon
With the power. Beauty Bar, Che Cafe, Mexicali. Did I mention Le Castle Vania is an "add" for Mexicali? Mermaid? All girl/all ages, first Che Cafe show. So So Glos- for real man, for real. New York City's finest and they've been tearing it up nationwide.
UCSD- this is your chance. Don't sleep. And... uh... I think there may be something different about Fifty on Their Heels. Something new. Something fresh. It may surprise you.
It all starts on 12/6, then 12/7 & then 12/8.
Also tomorrow night at the Che? Scarlet Symphony, The Muslims, The Prayers- I'll be there TALKING BUSINESS. Won't say what that is all about. Curious? No?
Mexicali Flyer (new venue)
Sunday @ Casbah: Vampire Weekend!!! & Grand Ole Party
Whenever my musical spirit is waning, I can count on a good bill at the Che Cafe to restore my faith. Such was the case last night, when I felt uplifted by performances by new gals on the block, the Mermaids (Lemon Grove), New York City's own So So Glos, the Sess and Fifty on Their Heels.
Thanks to Branden Atoms for being our show "sponsor". He's got a line up next week with Vision of A Dying World (Filter's undiscovered band of the month!), Get Back Loretta (they draw huge!) & the Atoms that should be dope!
The Mermaids, an all girl foursome from Lemon Grove kicked things off with an energetic bang. They brought their own posse- homies from the LG & one cat from Lakeside who did a super awesome crab walk. East County is quite the hot bed for underager ragers. Jakked Rabbits? Hello?
Mermaid is my new favorite band they have a style recognizable to fans of Bikini Kill and Mika Miko- alternative lifestyle friendly hardcorish punk. I think they need some more shows in the San Diego area! What a perfect opening band! They also stuck around all night and danced around, which was great. I wish more bands had their enthusiaism. I texted SESAC Josh mid show and told him to sign them up immeditately. Now I need to get them a show at the Smell! Ha! I can't even get Fifty a show at the Smell. But that's the vibe. At any rate, I'm sold.
The So So Glos were terrific. The consensus, post performance, was that reminded everyone of a little band you may have heard of- the Clash. Obv, that's a strange comparison, since none of us ever saw the Clash live, and frankly, the classic rock treatment that they get on 94/9 is enough to make you forget they were ever cool (cool, maybe, to your dad). But there was just something in the songwriting, the swagger, the energy, that just made me think "Clash." It also made me think "Rancid"- but obviously that would be Rancid from before Tim Armstrong was a sad joke. Maybe it's the fact that the singer plays bass.
I don't know. So So Glos are awesome, and it seems odd that I haven't read more about them from the New York City bloggers. But maybe that's because New York City music bloggers have terrible taste in music? I'll just through that out there. New York City music bloggers like to blog about Alicia Keys. Earfarm- you are the exception to that gross genralization. Maybe I'm not reading the right New York City music blogs.
The Sess... feel the majesty, you know? They are getting ready to tour up the coast with The Prayers & The Muslims & Los Angeles, San Francsico, Portland & Seattle- I'm putting you all on notice. You have an opportunity to check out three of San Diego's finest. They were great, AGAIN, last night. They have really rounded into form and seem very focused and together. It's the right time for them to hit the road, and I am excited for them, the Prayers & the Muslims. Spread the gospel.
Fifty played a good set- it was great to see the So So Glos singing along and the Mermaids dancing up a storm. Sigh. I wish more shows could be like last night's. It had a real family vibe. I really do enjoy attending shows at the Che. Too bad more UCSD students don't bother to come. UCSD students are soooo lammmmeeeeeee...
photo by Doug Wagner.
Here is the long awaited photograph of Golden Hill's own Peahen. Mighty Peahen. We celebrate your majesty oh great peahen.
Show Review:
Bjork @
The Pearl (@ the Palms) in Las Vegas