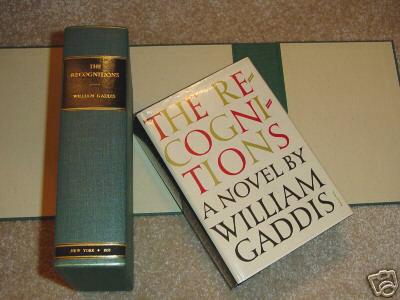 The Recognitions by William Gaddis is the first text of American post-Modernism
Book Review
The Recognitions (1955)
by William Gaddis
The Recognitions
is the foundation text of American Post-Modern Literature. It is also 960 pages long and adopts many of the obscurantist narrative techniques of James Joyce, specifically often not identifying the speaker of dialogue. Literally hundreds of pages of the text are what you would describe as "party talk" with multiple speakers talking over and to one another for fifty pages at a stretch. These more challenging portions are interspersed with more conventional third person narration, though characters are frequently in disguise, they often change their names from chapter to chapter and they consciously lie and obscure important facts that contradict earlier statements in the book.
The Recognitions
, in addition to being the foundation text of American Post-Modern Literature and 960 pages long, is also that rarest of art products: A work of art that was completely dismissed by critical and popular audiences upon initial publication, only to have BOTH audiences reverse their initial decision. The critical reaction was often disrespectful, with some critics failing even to finish the book before writing their review. In retrospect, the most amazing fact about the initial publication of
The Recogniitons
is that Harcourt-Brace, a well known publisher, decided to publish it at all.
This is such a protean, all encompassing text that it's difficult to know where to begin, besides a bare descriptions of, "An artist struggles with issues related to authenticity when he is paid to create fake paintings by non-existent dutch masters." This is the central plot, but there are substantial sub-plots with characters only tangentially related to Wyatt Gwyon, the painter. Personally, I think the major concept that needs to be teased out of the 960 page bulk are the hundreds pages of "party talk." The party scenes are where the major characters and plots intersect.
Gaddis is depicting the downtown party scene of the early 1950s. The parties in question are often in the Village, and sometimes uptown. The participants are a mixture of artists, professionals in the art world (including forgers) and various characters we would today recognize as "beats" or proto-hippies. Remarkably, his scathing depiction of this world came even before the primary texts themselves, books like
On The Road
, had even been published. Thus, Gaddis' dark humor was targeting a culture which itself hadn't even established itself.