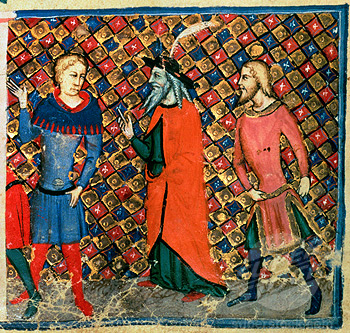 Merlin tutors Arthur.
Book Review
The Once and Future King (1958)\
by T.H. White
This retelling of the Arthurian legends was ruined for a generation of kids by Disney's terrible adaptation of the first book,
The Sword and the Stone
released in 1963. The entire story cycle includes three other books,
The Sword and the Stone
(1938),
The Queen of Air and Darkness
(1939),
The Ill-Made Knight
(1940) and
The Candle in the Wind
(1958). A contemporary reader is unlikely to find anything other than the four novels collected as The Once and Future King, and that's how I read them, on my Kindle- with the amazing (new?) feature "word wise" where you can touch a word and it will give you the Oxford English Dictionary definition.
I've gone back and forth on whether to engage the ebook world or stick to real books, but the ability to pull up the definition of unknown words was particularly useful reading
The Once and Future King
due to White's repeated use of words derived from the universe of medieval chivalry. Because of the Disney association, The Once and Future King is typically considered a children's book, but it really is not that. The Arthurian legends are filled with illicit sex, including a substantial plot point that turns on incest, seduction and viscous, cruel violence. White's narrator writes from the perspective of a contemporary narrator, and he is quick to draw allusions to the events of the 20th century.
After the initial book, which is about young Arthur being tutored by Merlin and gaining the throne of England when he pulls the sword from the stone, the subjects become quite adult and White alternates from the central themes of the difficulties Arthur has trying to introduce concepts like "fairness" and "justice" to England and the lesser myths of the Arthurian cycle, the quest for the grail and Lancelots adulterous relationship with Queen Guinevere. Everything moves at a fast pace, and even though the full cycle is something like 750 pages in print, the reader is ushered along at a nearly cinematic pace
Adults who have avoided the full cycle because of the Disney version of the first book might well consider giving The Once and Future King a shot, particularly if they are Harry Potter wizard types.