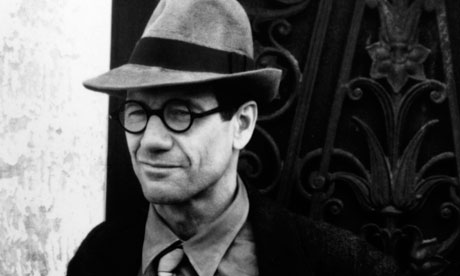 Henry Miller, notorious pussy hound.
Book Review
Tropic of Capircorn (1939)
by Henry Miller
Tropic of Capricorn
was written after
Tropic of Cancer
but is a prequel, rather than a sequel. Both concern the life and times of Henry Miller. His books are a combination of fiction, non-fiction, philosophy and obscenity. He is the first major novelist to present a convincing, if male-centered and misogynistic view of sexual activity and the explicit sex that fills both
Tropic of Cancer
and
Tropic of Capricorn
got his books banned in America until 1961. The lifting of that ban in the early 60s ensured his immortality as an early avatar of American counter-culture.
Tropic of Capricorn
covers Millers time living and working in New York City in the 1920s. Written at the end of the 30s, not published in the US until the 60s,
Tropic of Capricorn
is very much a novel about 20s New York. Miller hints at his early ramblings in California but otherwise sticks entirely to his experience in the boroughs of New York City in the 1920s. Miller is a famous literary asshole and his bare knuckled attitude towards life and experience is tattooed on every page of
Tropic of Capricorn
. Only Miller himself is compellingly portrayed, even as the book Miller character proclaims that he quit working so he could write about the people he meets he is engaged in a fifty page soliloquy that takes up the last 50 pages of the book. Henry Miller writes about Henry Miller and pussy.
Miller talks more about pussy than a The Weeknd record.