Stagecoach: Jean shorts are not just for women!!!
Show Review
Stagecoach 2015
I don't know that I necessarily outgrew Coachella, but certainly at this point I wouldn't go unless I was either with a performing artist or the +1 of someone working with a performing artist. There are a couple of reasons for that: First, the "Coachella vibe" is the functional equivalent of the "SXSW vibe": basics, super fans and a holes. Second, the idea of facing Coachella without Artist level wristbands is simply unbearable. The so-called "VIP" section during Coachella is about as VIP level experience as sitting in the "Terrace Level" seats at a baseball game.
If you can get over the fact that Stagecoach is primarily (but not entirely) Country music, it is a superior festival experience to Coachella on every level. Primarily the vibe is better. You can't...go to Stagecoach and have a bad time, even if, like me, you basically tolerate country music because your girlfriend listens to it. There is a lot of depth to the country music experience but as a genre it is also very focused on HAVING A GOOD TIME, and that coincides exactly with the category of "good festival vibes" that the Stagecoach experience exemplifies.
Instead of the five stage set up of Coachella proper, Stagecoach continued with a three stage approach- the main stage is roughly in the position of the second stage and then two tents in a row next to the main stage ("The Toyota Mane Stage") and a Honkey Tonk tent in the terrace area. Unlike Coachella, which continues an EDM tent through and even after the main stage headliner, Stagecoach is very much centered on the head lining performance, and one of the three tents is basically an afterthought with a half schedule.
At Stagecoach, the Main stage/Mane stage is straight up Top 40 country and the second stage this year had a strong "outlaw rock" vibe. The third stage was a mixture of bluegrass style artists and a couple of not-ready-for-main-stage type up and coming artists. The people watching is...exquisite. Words can not express the human circus that is Stagecoach. If you have any interest in the idea of "America" (or as an English friend ask ed on Friday afternoon, "Is it...pronounced MER ica...now?") you will find grist for the thought mill anywhere you go. Especially if you are the sort of person that does not attend NASCAR races or live in a red state, the atmosphere is simply breathtaking. There are elements of the audience that are perhaps troubling- the woman in a confederate flag hat or man wearing a t shirt with a homophobic sentiment, but if you are the sort of person bothered by enthusiastically expressed bigoted sentiments you shouldn't be at a music festival in the first place.
Handsome Family of Albuquerque New Mexico booked Stagecoach on the strength of their theme song for the first season of True Detective on HBO.
The first artist I saw on Friday was the Handsome Family who are best known for their theme song to the HBO tv show True Detective. Hailing from Albuquerque New Mexico, Handsome Family have been around for some time. They had fiddles and boy/girl vocals. It was a downbeat sensibility, wayyyy out of tune with the sunny Top 40 approved vibes of the Mane stage artists.
Sturgill Simpson was the only Pitchfork approved artist at 2015 Stagecoach festival.
An early Friday highlight was
Pitchfork approved
psych-country artist Sturgill Simpson. His 2014 record
Metamodern Sounds in Country Music
is a must even if you don't listen to country music. Generally speaking he combines trad country with rock and psychologically astute lyrics. He also puts on a solid live show and he's one of those artists who could easily play Coachella proper. I think probably the question is whether Simpson either can or wants to make a play for the main stream country world, radio, stadium tours opening for mainline country artists. Certainly the path for any "indie" Country artist is murkier than that for a rock act.
Parker Milsap
Parker Milsap was another Friday afternoon treat. Parker seems like one of those mainline country acts with tons of upside but maybe still looking for that first breakthrough hit- for himself or another artist, that will bring him to the main stage audience. As it stands, he's young, he's cute and talented. Unlike your up and coming rock acts, a hit is not a question of if but when.
My personal headliners for Friday were Merle Haggard and Kacey Musgraves. Haggard was the headliner on the second stage, and Musgraves was the second opener for headliner Tim McGraw (the execrable Jack Owen was the opener for McGraw)
Merle Haggard played a typical heritage/legacy rock set, with a skilled set of back up musicians and soloist backing his singing and playing. I've seen a variety of this type of sets from a range of musicians- Prince stands out, but it is a tried and true formula whether you want to stretch a 60 minute headlining set to three hours OR get through a 60 minute set with a minimum of personal effort.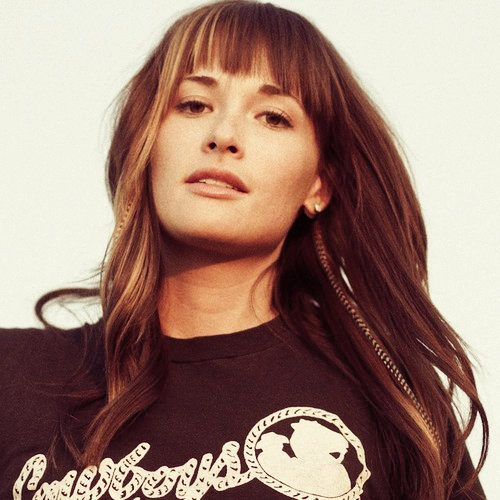 Kacey Musgraves
Kacey Musgraves was the big winner for the weekend. She is a hit songwriter for both herself and others. At 26 she is on the young side for country stardom, and she projects a cute image that puts her into the same general celebrity-music category as indie rockers like Jenny Lewis and Bethany Best Coast. I mean...she's bigger than both of those artists. On Friday she sported an American Flag themed fringe dressed and oversize sunglasses that were very much in tune with the looks being sported in the audience. She hails from the same East Texas area as Saturday night headliner and it is Lambert who recorded her biggest hit,
Mama's Broken Heart
.
Musgraves songs are heavy on the "mind your own business" and "don't judge me." Small towns and trailer parks are front in center. Her songs are practiced beyond her years, and she cannily espouses a small town viewpoint while practicing an almost international country style. Watching her, I wondered if a break through to top 40 was in the cards for her. She certainly has the time and the songwriting chops, but perhaps she is more concerned with establishing herself in the country world.
I was utterly charmed, and will probably be spending some time in the immediate future listening to her major label debut,
Same Trailer/Different Park
.
Saturday was Nashville television show day, with performances from Will "the Gay Cowboy" Lexington (Chris Carmack), Clare Bowen (Scarlett O'Connor) and Deacon Claybourne(Chip Esten). If you don't watch Nashville the television show I do recommend it. The level of music industry insideriness is high (Pitchfork featured in a recent episode) and the actors are enjoyable. All three actors were backed by the same band of Nashville studio pros, and that consistency made the entire exercise a believable musical performance instead of a public relations stunt.
Clare Bowen, Scarlett O'Connor from ABC's Nashville, after her performance
Because my girlfriend is a HUGE Nashville television show fan we stood on stage to watch, and I was able to snap some good candid pictures.
I was impressed by the size of the Audience. I expected they would be in the smallest tent, but they were on the second stage and they half filled it. The three performed with different approaches to their fictional character. Chris Carmack, who I surmise is not a gay Cowboy in real life, introduced each song as being "About Will, the character I play on Nashville...", Clare Bowen didn't talk at all, probably because she is Australian and didn't feel like "playing" Scarlett, outside of dressing like the character from the show and performing "her" songs.
Chris Esten, Deacon Claybourne, from ABC's television show Nashville snaps a "selfie" with a fan backstage after his set.
Chris Esten anchored the three performances and he seemed to be the most enthusiastic about his performance. I guess he has aspirations to music outside of his acting career and you could really tell. He positively exuded enthusiasm for the performance. If you are a fan of the show, you wouldn't be disappointed by going to one of the concerts they are putting on in various locations this year- it was a fun set.
After the Nashville television show set there was a gap until ZZ Top, and I sat out in the terrace and listened to Greg Allman drift over. Saturday was the bbq competition, so that was a situation where you could buy a sample- like one rib, or a small tasting cup of pulled pork for 3 dollars each. It was welcome change from the standard fare, and this year I went over early enough so that it wasn't sold out, something that happens between 4 and five in the afternoon- all ten vendors sell out.
ZZ Top was a strong second stage headliner. There was an obvious overlap between the Mane Stage Stagecoach audience and people who like ZZ Top. ZZ Top will always be affiliated with their 80s radio hits, but they have both a pre and post hit history so it isn't quite a situation where they mixed a couple recognizable hits with music no one cares about. I was surprised to see how much recognition there was in the audience for the deeper cuts. Last year, the second stage vibe at Stagecoach was very much "jam band" with the Nitty Gritty Dirt band being the most memorable representative.
I made my way over to the Toyota Mane Stage in time to see Dierks Bentley do his big hit, Drunk on a Plane, which is a sad song about a man who gets dumped by his fiancé at the altar and is forced to take a solo honeymoon. That song has been such a big hit for him that I wonder how often that scenario actually happened, or maybe it is some kind of common fantasy among country loving men or women.
Miranda Lambert performed at Stagecoach 2015 in leather pants with a Loretta Lynn t shirt.
Unfortunately, Miranda Lambert disappointed as the Saturday night headliner. That is a pity because going in she was my must see artist for the entire weekend. Lambert is a legitimate country music mega star, and she projects a uniquely country "strong woman" image with songs that are filled with threats of violence and vocal combativeness. Of course, she also hits the required notes of nostalgia (see the first single from her last record,
Automatic
, which is a celebration of the "old timey" early 1980s.) I was expecting more of the pop stagecraft that I've seen from other main stage headliners, but I suppose it is fair to assume that Miranda Lambert has "been there, done that" and that she can count on people continuing to love here regardless of whether she burns the house down or not. She did not burn the house down. I still love her, but the energy just wasn't there to equal the excitement from the Audience.
Where is a good place to stay for Coachella and Stagecoach?
My thinking has evolved on this question. I actually owned a place in South Palm Springs for a couple years. South Palm Springs isn't the worst place to be for the Stagecoach/Coachella festival location, but it's not ideal- almost forty five minutes away without traffic. On the other hand, the communities closer to the festival are either down on their luck (Indio, Coachella, points east) or a voidish mixture of private subdivisions, golf courses and bad restaurants. So if you rent a place closer to the festival, it's not as fun an environment. This year the house was in Palm Desert, where the 111 and the 74 meet, and wouldn't you know it but there is a Whole Foods- the first within a hundred miles- right there at the intersection.
That is a huge development for Palm Desert, and instantly transforms Palm Desert from an after thought to a first choice type of place- and only 15 minutes from the artist parking lot. Palm Desert is also close to The Nest, Lord Fletchers and The Beer Hunter, which are all half an hour or more away from Palm Springs proper.
After the excitement of Friday and Saturday, Sunday was bound to be a let down, and essentially the only must see for the day was headliner Blake Shelton because my companion is an enormous Blake Shelton (even he acknowledged that a large portion of the audience for his set were guys who had been "dragged"(his words) by a lady friend.
The relative lack of music made Sunday a big day for people watching, both inside the VIP bar area and on the terrace. Calling Stagecoach a fantasy land for rich white people isn't exactly accurate. There are also rich people of other ethnicities and nationalities. I saw a decent representation of people I assumed to be locals from the Riverside/San Bernardino metro areas, more often Hispanic and decidedly less well heeled. Women outnumbered men. There were more young people there who weren't explicitly country fans. I personally feel like Stagecoach is itself an excellent "alternative" to Coachella which is just about as "Mainstream" or Basic, if you will, as any thing can possibly be. Attending Stagecoach seems like a much more explicitly political statement, if not a liberal political statement.
Sunday I only watched three acts, George Thorogood and the Destroyers, The Band Perry and Blake Shelton.
George Thorogood wears a mean bandana.
I did not see George Thorogood perform his immortal hit, Bad to the Bone because I was anxious to see The Band Perry on the Toyota Mane Stage. I realize at some level that I am surrendering cool points by making that admission, but honesty, brutal honesty, is what this confession requires. I wasn't quite sure what to expect from a Thorogood performance other than to expect that he would save Bad to the Bone until the end of his set. He opened with a rockabilly number with unusual power because he works with a band of total pros. I saw many "Dads" usually accompanied by their rockabilly style wives and country style daughters, mouthing the lyrics to songs I'd never heard before.
Kimberly Perry is the lead singer and driving force of The Band Perry
The Band Perry is quite a story. I've been intrigued by them ever since they started gracing billboards for casino shows along the freeway by Palm Springs. This is going back...five or six years. And I don't know that I ever heard their music for some period, and then of course, since I've been listening to top 40 country via my girlfriend I've come to know that they are a brother sister act where the sister is the front man; that they have harmonized vocals, that they have several country hits, but haven't crossed over to the pop chart. Kimberly Perry is the lead singer and driving force of the band. As far as I'm concerned the brothers are literally window dressing, except, I suppose for their harmonizing vocals, male voices and ability to attract female listeners in the same way a boy band member would attract female listeners.
Spending any appreciable amount of time watching the live show by The Band Perry is enough to convince a viewer that they are a slick pop act masquerading as a country band. They easily slid into pop covers. Kimberly Perry prowled the stage and her brothers imped and clowned behind her. The Band Perry actually had doubling guitarists playing behind the brothers, like they were playing the same parts, because there were additional backing guitarists playing rhythm guitar, banjo, etc.
Fortunately I am a fan of pop music, and I thought their show was great. Kimberly Perry is quite a talent, and I am sure that they will be on the Mane Stage for years to come, or at least Kimberly will as a solo artist if not The Band Perry itself.
Blake Shelton of country music and NBC's, The Voice
Sunday headliner Blake Shelton is a kind of measuring stick for the cross over potential of country music stars into the pop world. His recurring role as a judge on NBC's
The Voice
has cemented his status as a conveyor of "country" culture to mainstream America. I am thinking of his status as an on camera pitchman for Pizza Hut some years ago. He also does soda ads. Blake Shelton is kind of a living symbol of cross over success, but he wears it lightly and has maintained an "aw shucks" demeanor that meshes well with his corporate endeavors. Compare him to the more stand offish demeanor of Friday nights headliner Tim McGraw or even that of his wife, Miranda Lambert. What Blake Shelton is, is friendly.
That charm was well on display- both up front where I was standing in the pit area, and in the general admission section stretching deep into the night. Shelton drank liberally from a black solo cup placed on a stool. Many of his songs are about drinking. You could say that much of his music occupies the area of "smiling through the sadness." Many of his songs are about respecting his woman. I think probably the secret of his success is that his music speaks the language of women and their basic desires. What Blake Shelton is singing about is what his fans want a man to do. It's hard not to draw that conclusion, since his lyrics are often about specifically doing those things, i.e. lighting watermelon candles and mixing up a pitcher of margaritas.
I didn't mind watching Blake Shelton. He just kind of stands up there and sings, but his between song patter and songs themselves are so strong that it works. People were just rabid Blake Shelton fans- 100% including the men standing around me in the pit. I was one of the only people who wasn't rapturous. Shelton well outplayed his spouse, and since I like her and don't actually like Shelton, I think that speaks well for his staying power and long term cross over staying power. He's someone where it's like, anyone could like him.
Concluding Thoughts About 2015 Stagecoach
Goldenvoice/AEG did an amazing job staging Stageoach 2015. All the staff I interacted with were polite and professional. True that I spent most of my time in the VIP or artist area, but I had ample opportunity to hang out in the terrace and I never saw any problems with anyone. I didn't see a single fight, or a single arrest. Pot smoke was nowhere near as prevalent as you might expect in southern California in 2015. The beer prices made getting drunk almost impossible. The honky tonk space was expanded this year, and it was an incredible thing to witness, even if you didn't yourself dance.