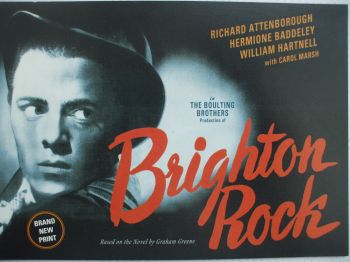 Poster from the movie version of Brighton Rock, the 1938 film by Graham Greene.
Book Review
Brighton Rock (1938)
by Graham Greene
Graham Greene Book Reviews - 1001 Books 2006 Edition
England Made Me
(1935)
Brighton Rock
(1938) *
The Power and the Glory
(1940) *
The Heart of the Matter
(1948)
The Third Man
(1949)
The End of the Affair
(1951) *
The Quiet American
(1955) *
Honorary Counsel
(1973) *
* = core title in 1001 Books list
I'm two books deep into the Graham Greene oeuvre and I can already see why he is such a favorite of the
1001 Books
editors: 1) English 2) Catholic 3) Had popular hits that combined genre work with "serious" subjects. Both
England Made Me
and
Brighton Rock
have worked in genre areas:
England Made Me
is a proto-spy thriller and
Brighton Rock
more straight forward crime fiction. I preferred the former to the latter.
Brighton Rock
actually has a Catholic theme, with "Pinkie" Brown, the hero/anti hero/protagonist frequently referring to his own Catholic faith and that of others.
The plot of
Brighton Rock
is straight forward: Pinkie kills a guy who kills his boss, and then he marries the only witness, a young waitress who is a willing accomplice in his scheme to prevent her from eventually testifying against him any potential court action. It's a little thin, as crime thriller plots go, and there is something quintessentially Catholic about a gangster who MARRIES a woman simply to keep her from POSSIBLY testifying against him in a case that hasn't been initiated. The marriage assumes he will be charged with murder and need her to NOT testify. That seems... to be a somewhat remote possibility during the entire book
Mechanics aside, there is much to enjoy in Brighton Rock, particularly the setting and the inherent pleasure of an English crime novel set outside of London, which seems to be the location for most every English novel that doesn't take place "in the country."