Full color reproductions of the Mayan murals at Bonampak, an obscure site unlikely to actually be visited by anyone who isn't hard core, are a good example of the value of A Guide to Ancient Maya Ruins by C. Bruce Hunter.
Book Review:
A Guide to Ancient Maya Ruins
by C. Bruce Hunter
Second edition, published 1986
Personally, I think the classic and post-classic (pre-Spanish) Maya are a hot topic in world prehistory/archaeology. Mostly because of the way that their "rise and fall" coincided with variations in climate and rainfall. Also though there are interesting questions about the relationships between the different cultures in Mexico- the Maya interaction with the Olmecs, Toltecs and Aztecs. Finally, there are the issues surrounding the local elites and their interactions with the "commoners." You can't understand any of these subjects simply by looking at large stone ruins, but the ruins do give a certain amount of perspective of all three major issues of interest.
The physical description of Mayan ruins has lagged beyond the wider trends in historiography that guide the questions outlined above. I found this particular book in the San Diego Central Library, where I just looked up the pre-Columbian civilizations subject in the History section. First published in the mid 1970s, the 2nd edition was published in 1986, and the San Diego Library didn't buy it until the mid 1990s. I suppose that would make it the pre eminent work in the area, but I would like to read something that integrates more recent advances in Maya studies.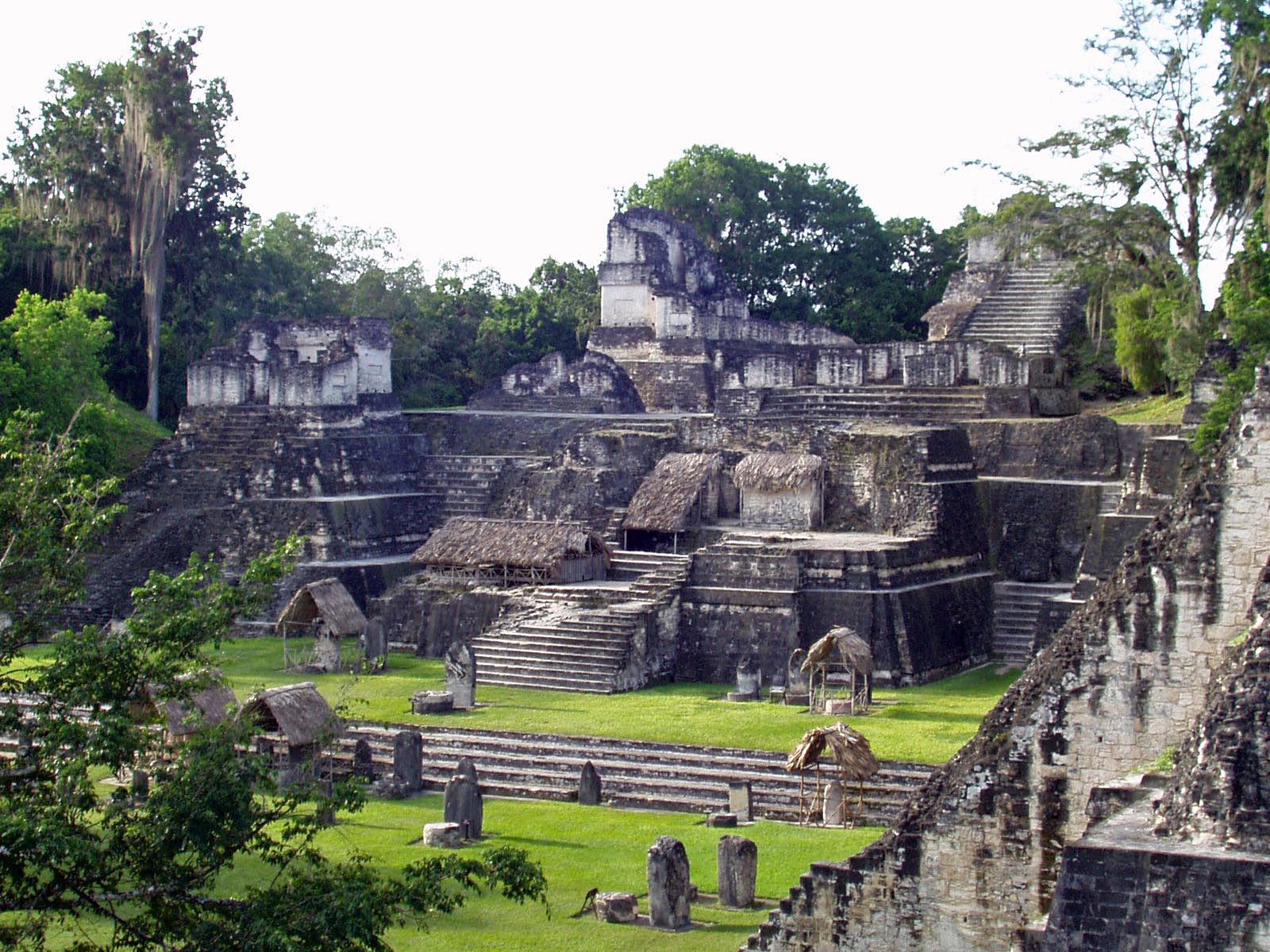 The Mayan ruins at Tikal, deep in the Guatemalan jungle, are probably the most spectacular physical remains of the Maya fluorescence.
That said, the ability of the author to give a coherent viewpoint and discuss all the major sites with the goal of "servicing" a prospective visitor to the area is not to be missed. A Guide to Ancient Maya Ruins is probably a classic because of the ability to give a touristy gloss to not-overly academic source materials. The tips I would pass along from my reading- this is after actually going to Uxmal on a recent trip but passing on other sites; the tip is that you should just hit the most accessible ruin you can and then read about the others. There's nothing so glorious in the mix that you would simply plan a trip around it, except possibly Ticul/Tical in the Guatemalan rain forest.