Irina Potapenko plays Ukranian prostitute Tamara in Revanche (2008) directed by Gotz Spielmann
Movie Review
Revanche (2008)
d. Götz Spielmann
Criterion Collection #502
It's not everyday you watch an Austrian film. Götz Spielmann has a smooth, international style that reminded me of Krzysztof Kieslowski and Atom Egoyan. Revanche splits its time between the seedier precincts of an unnamed German speaking city and the bucolic country side of either Austria or Germany, and Spielmann seems equally drawn to both locales. There are many, many, many contemplative shots of the landscape, typically with a single character in frame, staring off into the distance. Call it Euro cinema, but it seems to happen where you have good cameras and technical staff a need to conserve and limit camera movement and fast cut editing for cost purposes.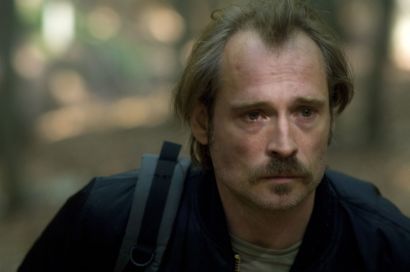 Johannes Krisch plays Alex in Revanche (2008) directed by Gotz Spielmann
Despite breaking no new ground in terms of look or feel,
Revanche
is compelling for the combination of elements: German crook looking for revenge or redemption, Ukrainian prostitutes, Polish gangsters, strip clubs, farm life are compelling and together. What starts out as a crime caper gone wrong transforms into a very different film once Alex (actor Johannes Krisch) leaves the urban underworld for his fathers farm.
The happy ending comes as a welcome surprise, and Revanche ends more like a Hollywood movie than a dour European art form. Only released in 2008, I have to wonder if and when Gotz Spielmann will make it to Hollywood, and what they will have him do. He is a film maker to watch.