David Bennett plays Oskar Matzerath in Volker Schlondorff's 1979 version of Gunter Grass' 1959 novel.
Movie Review:
The Tin Drum (1979)
d. Volker Schlöndorff
Criterion Collection #234
The Tin Drum
(1979) was German director Volker Schlöndorff biggest hit in America, where it won the 1979 Academy Award for Best Foreign Film. The Criterion Collection/Academy Award for Best Foreign Film is a good way to focus in on which films were really enjoyed by audiences upon initial release, vs. what the Criterion Collection Editorial board thinks is worthwhile (and available to them for release.) Schlondorff was notable because all of his films were literary adaptations. Unlike his movie version of Musil's
Confusions of Young Torless
, The Tin Drum was a relatively recent book, released in 1959.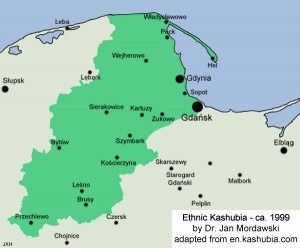 Gunter Grass was a member of the Polish ethnic minority of Kashubians, whose "territory" within present day Poland is marked on the map above. The Tin Drum takes place in Danzig, east of Kashubia.
The book
The Tin Drum
was controversial because it had a "light" treatment of the Nazi theme (while being critical/dismissive of the Nazi's themselves.) The complicated history that underlays the book and its reception by contemporary German language audiences is also informed by the recent episode where Grass revealed that he was "briefly"
a member of the Waffen SS in his youth
. Even this fact is not as straight forward as it might appear. Grass was a member of the
Kushubian
/Polish ethnic minority that is centered around the city of present day Gdansk in present day Poland.
The Tin Drum
is mostly set in Danzig, which was a "German" city cut off from the rest of Germany, and with a population of Germans, Poles and Kashubians.
The Kashubians have a history of being looked down upon by "Poles" and it isn't impossible to see why Kashubians would look towards Germany during the time when Grass was young. In a sense though, it makes his membership in the SS worse, since he was basically a "foreign enlister" and the Nazis had no kindness for Slavs of whatever ethnicity.
The Tin Drum
was also controversial upon initial release as a book because of the sexual content. By the standards of foreign cinema of 1979, that material is not nearly as bold or transgressive, but it still packs a startling punch, and would be enough to send any child watching with family out of the room.
I delayed watching
The Tin Drum
because I thought it might be (at two hours and forty five minutes) a slog, but I was pleasantly surprised. Scholondorff's film moves along at an engaging clip, with plenty of sex and violence, making the selection by the Academy as Best Foreign Film understandable.