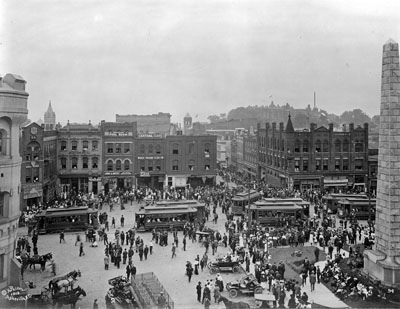 Asheville in the early 20th century was the model for the Altamount of Look Homeward, Angel by Thomas Wolfe.
Book Review
Look Homeward, Angel: A Story of the Buried Life(1929)
by Thomas Wolfe
Thomas Wolfe, the author of
Look Homeward, Angel
is not to be confused with Tom Wolfe, the author of
Bonfire of the Vanities
,
The Electric Kool-Aid Acid Test
, and the man generally credited with "inventing" the New Journalism technique of inserting oneself into the story as a character.
Thomas Wolfe was born and raised in Asheville, North Carolina, and later attended Harvard University before dying young in 1930. Look Homeward, Angel is not among the great modernist classics of the 1920s. Rather, Wolfe is a kind of throwback to the bildungsromans/coming of age story of the late nineteenth and early 20th century. There are no shifts of perspective, stream of consciousness experiments or time shifts.
The story of would-be artist Eugene Gant is sold in inter generational fashion, but only in two generations- a nod to the late Victorian work of Trollope, but in a kind of truncated form. After 150 pages or so we get to the 400 page portion that could as easily been called, "Portrait of the Artist as a Young Man." His hometown of Altamount is a clear stand in for Asheville, the mountain town in Western North Carolina that has a long history of nurturing creative expression and free thought.
Gant/Wolfe was raised in a large family and it is Wolfes depiction of his surroundings, rather then the Eugene Gant character himself, which spurs your interest in what is best described as a long, slow book. Gant is certainly a "Southern Writer," but not a Great Southern Writer like Faulkner. Rather, he is a good Southern Writer. Ultimately the enduring value of Look Homeward, Angel is in the depiction of the South between the end of the 19th century through World War I. Wolfe is a sharp observer of cultural detail, and that part of the book is fun to read.