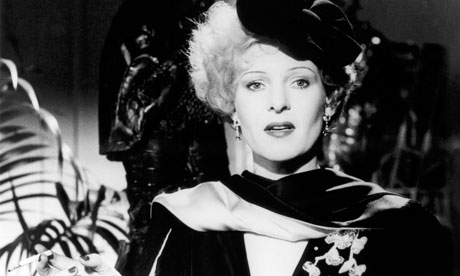 "Ich bin bereit für meine Nahaufnahme." or "I'm ready for my close-up," Rosel Zech plays the Sunset Boulevard esque Veronica Voss in Fassbinder's excellent 1982 film of the same name.
Movie Review
Veronika Voss(1982)
d. Rainer Werner Fassbinder
Criterion Collection #205
The Criterion Collection description calls Veronica Voss "satire masquerading as melodrama," but it could equally be described as movie that looks like a take on Billy Wilder's
Sunset Boulevard
until the last 20 minutes.
Sunset Boulevard
is of course the immortal 1950 film starring Gloria Swanson as faded star Norma Desmond.
Sunset Boulevard
is a noir that starts with a body floating in a swimming pool and works back to front in time.
Veronica Voss
eschews any narrative trickery, saving its surprises for a more conventional plot twist which takes place near the end of the film.
The story involves a brief affair between Voss, a famous Nazi era film star who is living in post war Germany, mired in obscurity, and as it turns out, madness, and Robert Krohn (acted by Hilmar Thate), a rough and tumble sportswriter (Fassbinder was a soccer fan as it turns out) who takes the place of the private eye character you typically associate with noirish plots. He already has a live in girlfriend, who participates in his affair with a kind of world weary bemusement.
Although there are some stylistic touches in the lighting and composition, the story is easy to follow and eminently watchable if you can get over reading the subtitles. The performances are compelling, and the echo of
Sunset Boulevard
grounds the watcher in a releateable narrative.
Veronica Voss
is worth checking out on Hulu Plus.