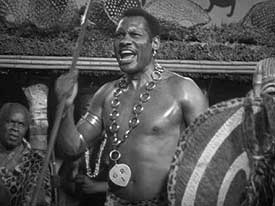 Paul Robeson playing "Bosambo" in the regrettable Sanders of the River
Sanders of the River (1935)
d. Zoltán Korda
Criterion Collection #372
From Paul Robeson: Portraits of the Artist boxed set,
Criterion Collection #369
Included in the excellent boxed set, Paul Robeson: Portraits of the Artist, Sanders of the River is not what you would call a career highlight. In fact, the description on the Criterion Collection site calls Sanders of the River, "deeply embarrassing" to Robeson- as in- he was deeply embarrassed by the resulting film, which can only be called a "glorification of the British Empire" while simultaneously being deeply insulting to Africans. I suppose there is some value to Sanders of the River as the first film that Robeson made after departing the United States for England, but as a watchable film? Negatory.