Luke Bryan is totally straight you guys.
Stagecoach 2014:
Of beer, trucks & cut-offs and the sublime
The concept of aesthetics is essentially "philosophical" in nature. The modern discussion of philosophy began in the mid 18th century, and one of the key texts is Edmund Burke's
Philosophical Enquiry into the Origin of our Ideas of the Sublime and Beautiful
, published in 1757. Philosophical Enquiry defined the "sublime" as follows:
"terror is in all cases whatsoever . . . the ruling principle of the sublime" and, in keeping with his conception of a violently emotional sublime, his idea of astonishment, the effect which almost all theorists mentioned, was more violent than that of his predecessors: "The passion caused by the great and sublime in nature . . . is Astonishment; and astonishment is that state of the soul, in which all its motions are suspended, with some degree of horror. In this case the mind is so entirely filled with its object, that it cannot entertain any other." [Burke, On the Sublime, ed. J. T. Bolton. 58]
Stagecoach, with its nuanced celebration of the aesthetics of contemporary Country Music & Culture: Beer, Trucks, Cut-offs, bikini tops & hard alcohol is our modern version of the mass religious ceremonies of the pre Christian Near East and the pre-Buddhist Vedic rituals of the Indian subcontinent.
What are the aesthetic principles of these pre-modern, pre-christian, non-western religious rituals? They were MASS with thousands of participants obeying the whims of a priestly caste. These rituals involved endless repetition and by necessity required neither literacy nor education of the participants. In both the Near East and India, these rituals fell out of favor with the coming of Buddha and the combined influence of Judaism/Christianity/Islam. These ancient religious rituals are evoked by any of the constituent elements of mass culture: sporting events, political rallies.
Witnessing these mass events, be they religious or secular, can not but help evoke a feeling of the sublime. Burke, in 1757, was mostly talking about the feeling people got from contemplating religious ideas or ideas surrounding natural beauty (mountain vista in Switzerland were considered sublime in the mid 18th century.)
Anything that possesses a great and terrifying beauty is properly considered sublime, and Stagecoach 2014 certainly deserves to be called sublime in the 18th century philosophical definition of the term. Although Stagecoach 2014 was filled with so many sublime moments that a full description of said moments could run tens of thousands of words, I think the Sunday headlining sets of Luke Bryan and Florida Georgia Line provided the most sublime moments. One of the defining characteristics of the first song of the headlining sets of all the Stagecoach 2014 "Mane" Stage Headliners: Eric Church, Jason Aldean, FGL & Luke Bryan began with one or more of the following events: Playing AWOLnation's "Sail" in its entirety prior to the first song, fireworks, complex light shows, bursts of fire, elaborate introductory video segments involving the headliner engaging in Alpha Male behavior.
Florida Georgia Line
For FGL it was a lights intro with the "band" launching into an up-tempo rendition of It'z(sic) Just What We Do from their 2012 debut record Here's to the Good Times. If you are unfamiliar with this tune, it evokes vintage Kid Rock as interpreted by a modern take on the Dukes of Hazard. Anchored by the triple kick drum led kit of Sean Fuller, Florida Georgia Line catapulted the Audience in paroxysms of delight. By the third song, they had thousands of General Audience members lifting their "lighters or cell phones, whatever makes light" in unison, creating an "infield/outfield" effect that was immediately featured on the twin jumbo video screens on either side of the Mane Stage.
Like all of the other Mane Stage headlining artists, Florida Georgia Line literally told the Audience after they had played a number one song, "Thank You Stagecoach for help making Cruise our first number one!" For all these Artists, "Number One" referred to the Billboard Music Country Singles chart. On the pop chart, the highest that Florida Georgia Line has reached is #4, for Luke Bryan it is #14, Jason Aldean: 18, Eric Church: 19. So while the lower reaches of the Top 20 on the Billboard Hot 100 firmly places all the headliners in "Top Forty" territory- it's not a number one on the pop chart, and you'd have to place Stagecoach Festival in the category of a long-term plan by the "Nashville" music industry to get these Artists from 15-20 to number on on the Hot 100.
I would say they are working towards achieving that goal. For those familiar with Coachella Arts & Music Festival, Stagecoach Presented by Toyota is like a funhouse mirror version, with Goldenvoice as interpreted by AEG, Top 40 country in the place of indie rock, Roots/Americana in the place of EDM and Fiddle music replacing everything else. A main difference between Coachella and Stagecoach is that the General Audience section at Coachella is segmented off into areas where people put their lawn chairs and blankets and then sit around in the same place. At Coachella, of course there are scattered blankets and zero lawn chairs.
Like Coachella itself, Stagecoach 2014 was a straight-up sell-out, but with a total attendance of something like 45-50,000. The Mane Stage headliners seemed either ignorant or consciously ignoring the actual attendance in favor of wildly inflated estimates like 75,000 or even 100,000. The 45,000 was impressive enough. The big looks among the audience was, on women: cut-off jean shorts and tops that often involved a bikini top and then something on top of the bikini top, lace in particular seemed to be a favorite. The percentage of female audience members sporting some variation of the: jean cut-offs, cowboy boots, cowboy/baseball hat, bikini top/t-shirt/cover-up look who were between the ages of 18-30 was maybe 30%. For men, the most distinctive look was the: Cowboy boots, jeans, no shirt/waxed torso, cowboy hat combination. Other prevalent visual themes included, in order of popularity: American flag, Beer brands, Hard Alcohol brands, tattoos, American Patriotism and the Confederate flag. In the VIP area, body types/ages/genders mirrored what you would see in fancy parts of California: Well heeled older folks who had stayed in shape and then A LOT of hot young chicks/hot young guys with the rest being non-country specific Yuppie types. Out in the General Audience there was more heft to the attendees, and a more distinct military/working class vibe. Some families, which were typically younger looking parents with a single teenage girl in tow.
A boyish Thomas Rhett
After checking in at the new-ish Sparrows Hotel in Palm Springs mid Friday afternoon, I got to the festival in time for Thomas Rhett. Rhett has his own number one (It Goes Like That) and a number four, that may still be on the way to number one, Get Me Some of That. Rhett also wrote Parking Lot Party, which was a Top 10 for Lee Brice. Rhett projects a raffish, aw shucks demeanor complete with "I'm sooo nervous to be up here in front of y'all" which personally reminded me of the faux modesty sometime displayed by budding porn stars in their first scenes. Sure you're nervous Thomas Rhett, sure you are. Playing at 6 PM on the Mane Stage, he had the full attention of the already packed General Audience area. The percentage of the crowd that just stayed planted in front of the Mane Stage all day was probably in excess of 50% of the total crowd.
Rhett's rendition of Get Me Some of That was exactly as good as you would expect, but his set lacked the pyrotechnic flourishes that were the hallmark of the later performers. All in good time, I suppose. After Rhett, I ambled or moseyed to the Sahara tent/Palomino stage and tried to watch Lynrd Skynrd. Unfortunately, there was no VIP viewing area for Skynyrd and the crowd was bonkers, so I ended up standing by the side of the stage like an asshole, literally watching Ashton Kutcher try (and fail) to talk his way onto the stage.
Headliner Eric Church took the stage promptly at 10:15 PM- the earlier starting time of the Mane Stage headliner was a welcome difference between Stagecoach and Coachella. Church had the first of several killer openers, with his baseball cat silhouette being projected onto the screen behind the stage and fireworks during the first song. Of the four Mane Stage headline level acts, Church is by far the most "rock" of them. But for the telltale presence of banjo and slide guitar, Eric Church could be a rock (vs. Country) star.
Eric Church
My sense of Eric Church is that he is not quite "Country" enough for the Top 40 Country Audience, and at the same time he hasn't made the impression on the mainstream Rock audience that he probably deserves. Church is firmly in the 'Baseball Hat' Country demographic, which is a variant of the Nashville sound that eschews the more Western and Southern stylistic elements of Top 40 Country. At the same time, Churches' thematic concerns were very much in the main line of Top 40 Country: Beer, Jesus, Family, Hometowns, etc.
Jason Isbell
Saturday I got there at 4 to watch Jason Isbell. Isbell, ex of the Drive By Truckers, was firmly in the "alt country" vein, with no hat and songs that eschewed the sing alongs, shouted choruses and hip hop emulation of the Mane Stage performers. Not having listened to him in the past, I was impressed with his songwriting prowess and dark themes.
Tyler Farr
Next was Tyler Farr on the Mane Stage at 6:10 PM. Farr was the Saturday version of Thomas Rhett: A less mannered proven songwriter with a great voice and a track record of hits for himself and others. For Farr, 2013 was a breakout with two top 20 singles: Whiskey in My Water (15) and Redneck Crazy (2). Like Rhett, he projected a low key baseball hat country demeanor but more meaty than raffish.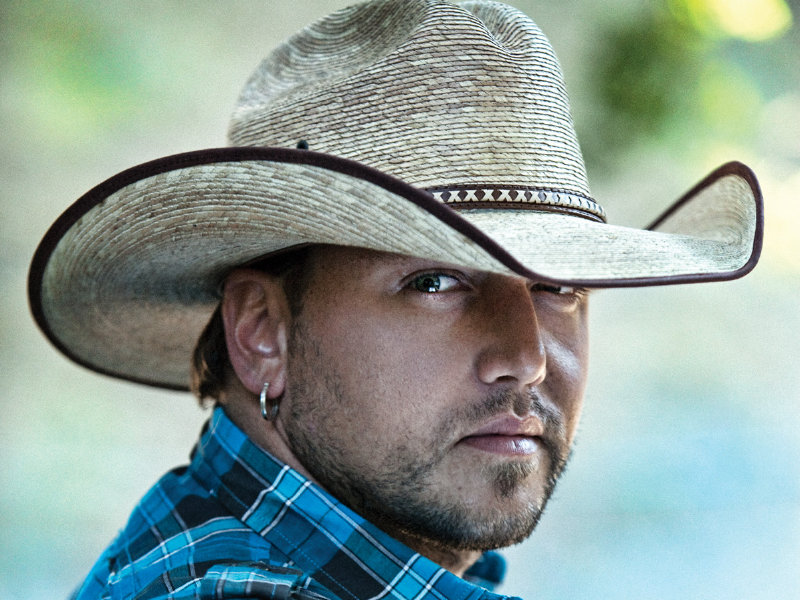 Jason Aldean
Saturday's headliner was Jason Aldean, who had the most traditional appearance of the big four headliners, performing in a Cowboy hat, t-shirt and jeans (with a TRIPLE wallet chain.) I think his opener of Crazy Town was the best of the weekend but Aldeans' over-all stage presence is weaker then that of Church, FGL & Luke Bryan.
Sunday started with Wanda Jackson- probably the only performer who I was legitimately excited to see in a normal universe. Jackson was absolutely adorable, providing a kind of narrative chronology to her catalog, interspersing songs with stories.
The big close for Sunday was Luke Bryan, who combines supple Country Pop vocals with moves that seem lifted from a Male Stripper. His fans are overwhelmingly, but not exclusively, young females. It is...quite a show, but not really my jam. I'm more of an FGL bro.