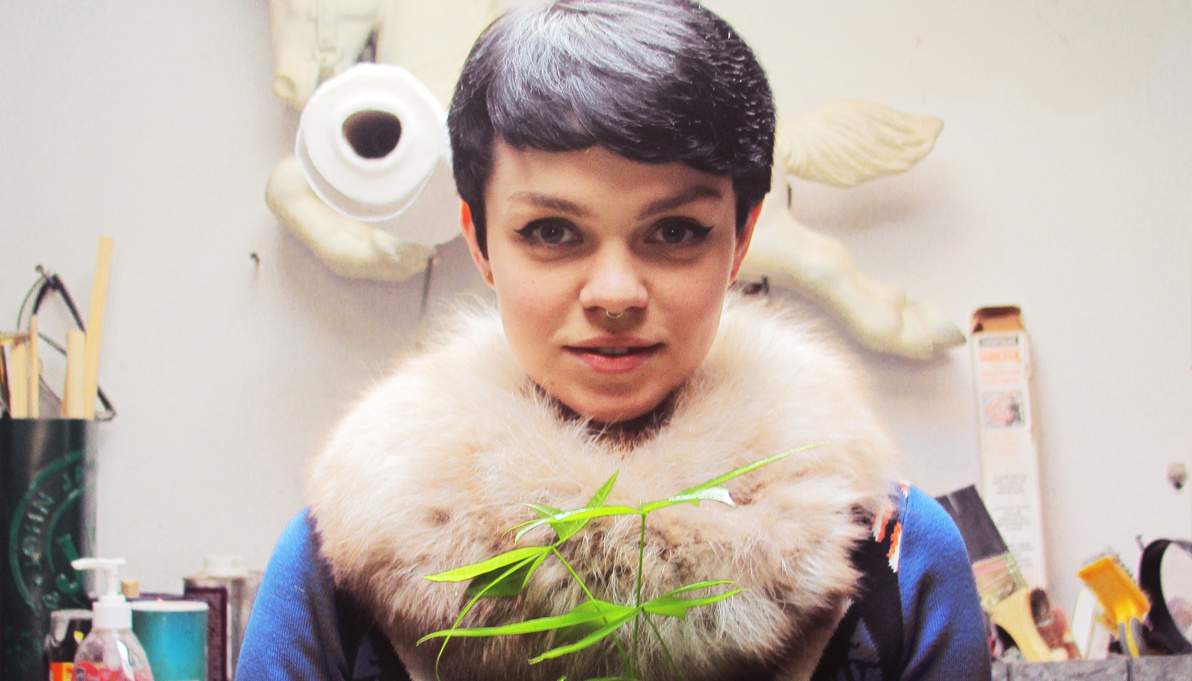 Don't fuck with Meredith Graves, Perfect Pussy.
Show Review:
Perfect Pussy
and the Fascist Hardcore Aesthetic
Che Cafe, San Diego, CA.
First of all, I thought the Perfect Pussy show was great! So many enthusiastic young people experiencing the hardcore rite of passage, with pogoing, people hanging from the rafters and of course the band itself, combining note perfect post hard core with a pixie cut sporting front woman who is channeling the performance vibe of an early Fugazi era Ian MacKaye and the look of a
manic pixie dream girl
. After speaking to their publicist (who I also use for my label) it sounds like she is more of the former than the latter. The band is elevated from the terrain of a "regular" hardcore band through the subtle use of electronics to fill in the sound. This puts them more in the category of "post-hardcore" typified by Nation of Ulysses, the Refused and their noisier compatriots.
It is hard to write about Perfect Pussy without writing about the Syracuse straight edge hard core scene. Syracuse is famously home to Earth Crisis, the most militant and one of the most long running straight edge hard core bands of all time. Straight Edge was a variety of hardcore that melded the shaved head, jack booted proto-fascist look of English OI punk with left/liberal political positions of eschewing drugs or alcohol, veganism and larger issues related to animal rights. Straight Edge hard core bands were often sonically and stylistically indistinguishable from their non-straight edge hard core brethren.
Minor Threat(1980-1983), for all intents and purposes invented straight edge in Washington DC. By the early 90s, straight edge had piggy backed onto the growth of non-straightedge hardcore and bands began to emerge from secondary markets. In 1989, Earth Crisis, which proved to be one of the most durable and articulate proponents of straight edge ideology emerged out of Syracuse. It's important to understand that Earth Crisis emerged from an already existing non-straight edge hardcore scene.
Straight Edge culture directly influenced Riot Grrl- there were long standing links between Riot Grrl bands based in the North West and the straight edge scene on the east coast, particularly in Washington DC. The most concrete example is in the area of DIY touring, where hardcore, straight edge hardcore and non denominated diy punk acts were able to criss cross the country throughout the 80s and 90s. This touring circuit proved to be a breeding ground for a generation of indie fans and artists.
Thus, the emergence of Meredith Graves and Perfect Pussy in 2014 makes a great deal of sense. While not actually espousing the politics of straight edge hard core, Graves' no nonsense public demeanor and the general sound and look of the band reference that era. The straight edge hey day of the mid to late 80s/early 90s is far enough in the distance so that the less pleasant secondary aspects of straight edge hardcore culture don't inhibit acceptance by a larger audience.
Judging from the enthusiastic response last night, Perfect Pussy have stuck a court with their contemporary spin on a decades old DIY culture staple. And more power to them is what I say. They hit the jack pot, they should ride the wave.