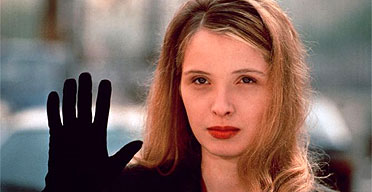 Julie Delpy: White
Movie Review
Three Colors: White (1993)
d. Krzysztof Kieślowski
Criterion Collection #589
The last conversation I had about the Three Colors trilogy, my partner said her favorite film in the trilogy was Red, but after White I'm having trouble imagining how Red can top it. I certainly like White more than Blue. Blue is well... blue. White is like a revenge movie, and a crime caper movie and is actually funny but it still packs an emotional punch and has something to say about life and love.
The two films overlap at a point in Blue where Julie is discovering the identity of her husbands mistress, who is a young lawyer in the civil courts of Paris.
White
begins in that same scene- we see Julie entering and being escorted out of the court room as Polish hairdresser Karol Karol is being divorced by his cruel French wife Dominque (played by a SMOKING HOT Julie Delphy. JE SUS IS SHE HOT IN THIS MOVIE.) Dominque divorces him on grounds of impotence, kicks him into the street without a dime to his name, and frames him for an abortive arson. Karol retreats to Poland, literally escaping inside a large piece of luggage, and drifts into a quasi criminal career in land speculation and stolen goods fencing. Successful, he hatches a plot to revenge himself on his ex-wife.
White is watchable to the point where you might even call it "fun." Zbigniew Zamachowski as Karol Karol has a likeable everyman quality that comes across in any language, and the sub-plot involving Karol and his business partner/friend Mikolaj is as interesting and more touching emotionally than the main revenge plot between Karol and his ex.