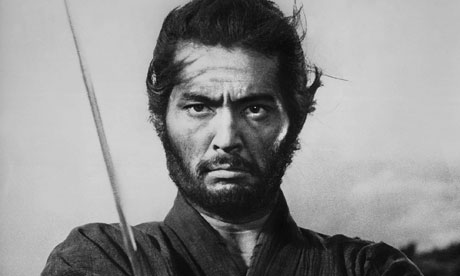 Toshiro Mifune
Movie Review
Samurai III: Duel at Ganryu Island (1956)
d. Hiroshi Inagaki
Criterion Collection #16
I am relieved to have completed my viewing of Hiroshi Inagaki's Samurai trilogy because it was the biggest remaining gap in the first 20 Criterion Collection titles. Only two titles in the first 20 remain unseen:
Salo, or the 120 Days of Sodom
and
A Night To Remember
. I may end up buying Salo because let me tell you: you can not rent that shit on Amazon streaming video. A Night To Remember is available on streaming video so I'll probably knock that out. It's about... the Titanic and it was released in 1957? Looking forward to it. I've also decided to go back and rewatch some of the classics that I haven't seen in some time:
400 Blows
(on cassette during college in the film library?),
The Seventh Seal
(Netflix on disc?), maybe
Sid & Nancy
. I'm not sure I'm going to watch Sid & Nancy again.
In the thundering conclusion to the Samurai trilogy, famed Samurai Musashi Miyamoto continues his wanderings, and eventually gets around to killing his main rival, Kojiro Sasaki, during a...you guessed it; island duel. In between he kinda saves a village from bandits, actually he fails to save the village but helps the villagers drive off the bandits. He finally agrees to marry Otsu and Otsu's rival Akemi betrays him and then dies. It is, as they say, a rollicking good time, and I have to admit that for this episode I was emotionally invested in Miyamoto, even though the title gave me a pretty good idea about where the plot was headed.
Koji Tsurata as Kojiro Sasaki
Toshiro Mifune is again iconic as Musashi Miyamoto, and the third film really shows off Koji Tsurata as the rival samurai Kojiro Sasaki. I wouldn't say that the Samurai trilogy
whetted my appetite
for more Samurai movies, and oh by the way Hulu Plus has a shit ton, and not all of them are Criterion Collection titles either; but I do feel like I have a deeper appreciation for this chapter in cinema history.
There aren't really any contemporary Samurai films (The last Samurai?) so it's not the same situation as with Kung Fu films. Why did the Samurai movie go extinct? A question for another day I suppose.