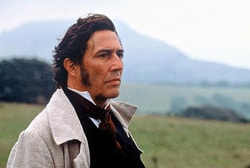 Ciaran Hinds plays Michael Henchard in the 2003 television movie of The Mayor of Casterbridge by Thomas Hardy
The Mayor of Casterbridge
by Thomas Hardy
p. 1886
I know I promised three Thomas Hardy novels in a row, but I'm going to do
Germinal
by Zola and the
Kreutzer Sonata
by Tolstoy before I tackle ole
Tess of the D'Ubervilles.
Like I ementioned the other day, Thomas Hardy is interesting because he is a late Victorian novelist who sets all of his novels in the early-mid Victorian period. Thus, if the reader is not hip to this fact, theyr could easily be deceived into thinking that Hardy was a contemporary of the Bronte sisters rather then Zola.
Even though his novels are set in the past, Hardy is not writing historical novels, rather he is writing very "Modern" novels with modern themes and modern characters that are simply set in the past. And while The Woodlanders reads like Hardy's take on the conventional Victorian marriage plot, The Mayor of Casterbridge is closer to the historical epics of French novelists like Hugo and Balzac, only without the epic sweep of current events.
In the Mayor of Casterbridge we witness the fall and rise and fall of the titular character, Michael Henchard. In the first scene- which is set up as a stand alone flash back that wouldn't be out of place as a narrative device in a contemporary novel- Henchard sells his wife and child during a drinking bender. Stricken by remorse the next day, he pledges never to drink again.
Fast forward twenty years, and the wife he sold, Susan Henchard, returns after the death of her "husband" (the sailor who bought her) along with "their" daughter Elizabeth Jane, in tow. In the intervening 20 years Michael Henchard has risen to become the Mayor of the small agricultural trading center of Casterbridge. Complications then ensue regarding Henchard, his hired hand Donald Farfrae, Henchard's soon to be jilted betrothed/mistress Lucetta and of course Newsom, the sailor/"husband" who is thought to be dead. Any casual reader of 19th century English literature will know from the first mention that any character thought to be dead in a novel is never, in fact, actually dead.
Hilarity, or rather darkly comic tragedy ensues, but once again the plot moves around a brisk, late Victorian clip and by the time we reach Henchards' ruin at the end the reader feels satisfied but not overwhelmed. I suppose Hardy represents a last moment of late Victorian respite before the maelstrom of Modernity overwhelms all conventions and destroys everything before it.