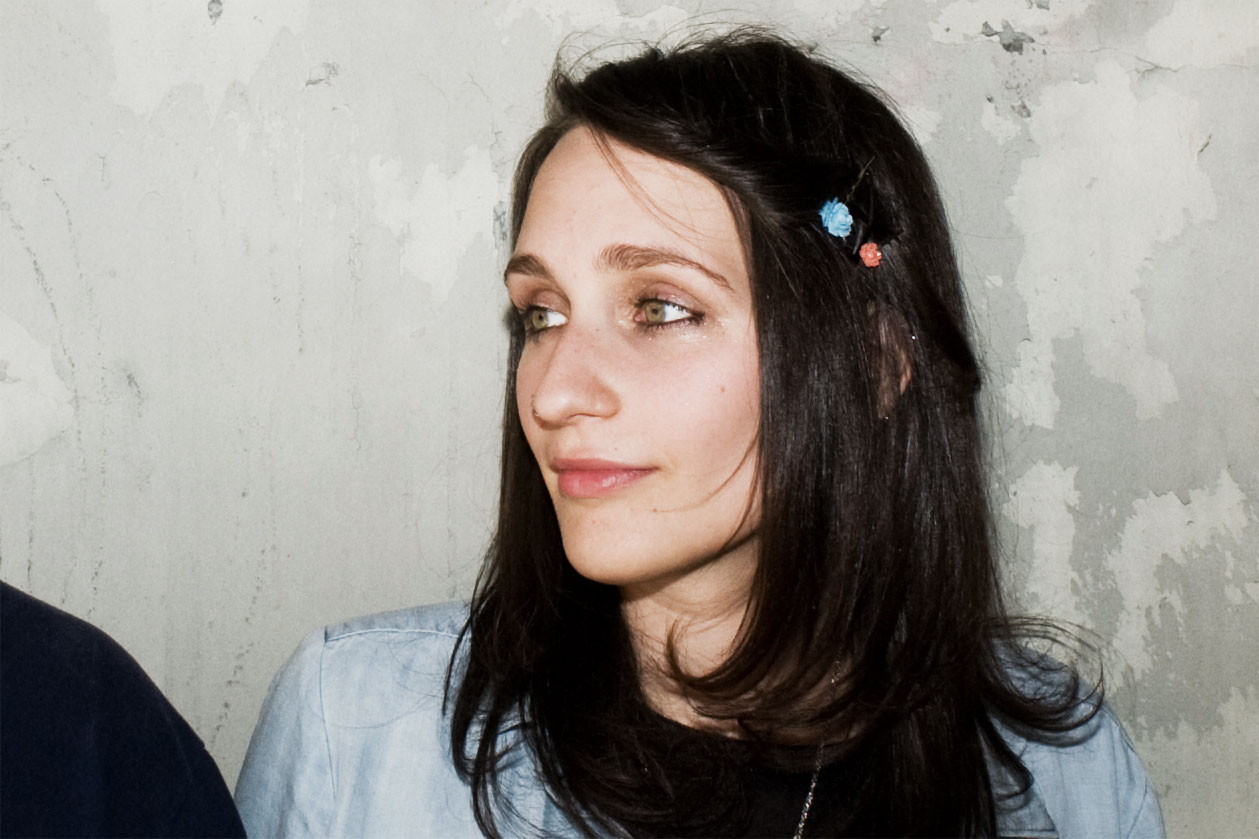 Speedy Ortiz frontwoman, main man Sadie Dupuis
Show Review:
Speedy Ortiz
@ Soda Bar
Had
Kremlinologists
on my mind at this show last night. During the Cold War, Kremlinologists were people who specialized in the interpretation of the actions of Communist States, particularly the U.S.S.R. that did not have a free press. The idea behind the TERM Kremlinology is that the lack of a free press required a more well developed set of interpretive antenna, that one had to sift official and unofficial statements by the government and state controlled media as a fortune teller sifts tea leaves to predict the future.
But I think Kremlinology is a good way to describe the study of any closed institution that doesn't have open disclosure of it's ways and means. You can consider the difference in the level of information disclosed by a publicly traded corporation vs. a privately held corporation: the publicly traded corporation has an annual statement which it is required to produce by law, as well as quarterly statements, also required by law. A private corporation doesn't need to do any of that. So, you wouldn't need a "Kremlinologist" to discuss a publicly traded corporation, but would for a privately owned corporation.
I bring this up because I was watching Speedy Ortiz perform last night. Speedy Ortiz is a four piece female fronted band out of Boston that almost certainly received the most surprising Best New Music nod from Pitchfork in this calendar year,
and it happened last week
. If you are smart and actually recognize the importance that Pitchfork approval plays for an unknown indie band, such events are most revealing, because it is how you see what aesthetic values really get the Pitchfork editorial staff moving.
You only have to read the Lindsay Zoladz written Best New Music review once to recognize that Pitchfork cares about lyrics. Pitchfork likes emotionally intense, emotionally sophisticated lyrics. That's not ALL that they like, but if you do that you have a leg up. This characteristic of emotionally open/deep lyrics is something Speedy Ortiz shares with another Pitchfork approved artist I recently saw (Majical Cloudz.)
If you listen to the LP (Major Arcana) it is also clear that the cluster of 90s alt rock influences like Liz Phair and Jawbox as well as sources suggested by Zoladz (Archers of Loaf, Helium.) put Speedy Ortiz in a category that has always been near and dear to the heart of the Pitchfork Editorial viewpoint. Here's a 10 for
Neutral Milk Hotel's. In The Aeroplane Over the Sea
. Personally, for me, that review is probably the point of greatest divergence between my own aesthetic preferences and those of Pitchfork. I would give that Neutral Milk Hotel record a zero. I'm not saying I'm right and Pitchfork is wrong- it's actually the opposite.
Same thing with Speedy Ortiz- the cluster of emotionally aware lyrics and 90s indie rock stylistic influences is not something that appeals to me, but it is obvious why it appeals to Pitchfork, and why they would be awarded a Best New Music for their debut LP.
The live show is muscular compared the relatively delicate recordings. The
Major Arcana
LP review mentions that Sadie Dupuis has roots as a bedroom recording artist, but she brought a fleshed out band to San Diego for the live show. There was a muscular drummer, a well versed bassist and competent guitar work. And of course Dupuis, singing and also playing guitar. I'm listening to the LP right now for the first time as I write this, and comparing the music with the show I watched last night, the clear comparison is Liz Phair. Is the world hungry for a new Liz Phair? It's a valid question, and only time will tell. For sure, the door is wide open for her to drive right through and
she seems likes a deserving Artist
who should be rewarded for her hard work over a period of years.
Part of being a succesful critic is being able to acknowledge talented artists who may have different influences and goals then that of the critic. Something you see again and again in Arts criticism is that critics pounce on differences as flaws in Art. Then, after a popular audience embraces the differences, critics back pedal and revise their own opinions to justify the differences. Speedy Ortiz is a clear example of a respected critical source leading the Audience in that regard- Speedy Ortiz had 275 listeners the week before their record came out, the week after: 5000.
So now the only remaining question is do those 5000 people embrace Speedy Ortiz or do they only listen once because of the Pitchfork review? Do they buy tickets to the show? Do they buy the album? Every other question is settled by the review. And the review makes perfect sense if you possess even a rudimentary understanding of Pitchfork's long standing editorial viewpoint that favors the sounds of "classic" 90s indie rock.