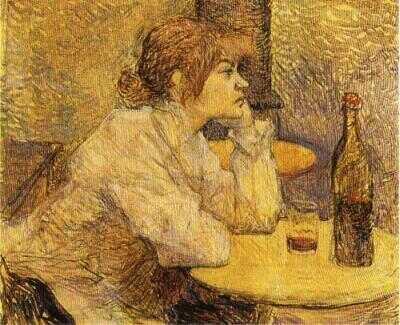 Depiction of Gervaise Macquart, the tragic heroine of L'Assommoir by Emile Zola (1877)
Book Review
L'Assommoir
by Emile Zola
p. 1877
Can you feel the approach of Modernism? Zola could. His novels were revolutionary in their frank depiction of the life of the contemporary working class- certainly not a scene that was frequently depicted in English novels of the same time period. Unlike Russian novels of the 1870s, Zola's working class characters are not disaffected intellectuals slumming with they poors, they are just regular old working class folk.
Emile Zola apostle of literary modernism and the frank depiction of the industrial working class
The movement of the novel down towards the gutter is almost synonymous with literary modernism, but in 1877 it was a controversial move, particularly when the working class folks in question were a bunch of failed, dissolute drunkards. The title literally translates to "The Dram." In my 2006 edition of 1001 Books To Read Before You Die they call it "Drunkard," and within the pages of the book L'Assommoir is the actual name of the bar where everyone drinks themselves to death.
Zola's frank depiction of substance abuse, sexual subjects and physical abuse may have been controversial in its day but to a contemporary reader the sensation has been dulled by a century and a half of virulent preaching against the evils of substance abuse among the working (and wealthy.) I glanced at an Amazon review that said L'Assommoir was to thank/blame at least partially for the Abolition movement. Not sure whether that is a true fact or not, but certainly by 1877 we are well within the time frame when novelists wrote with the avowed purpose of drawing attention to a cause or causes.
Gervaise Macquart is the center of L'Assommoir. At the beginning, she is a young girl with two kids (she had the first at 15 if the translation is accurate) and a dissolute husband. He dumps her and she finds another guy who is industrious. They have a few good years together and she opens her own business as a laundress. Then the second husband is injured when he falls from a roof. (he works on roofs) After he recovers, he too becomes a drunkard.
She keeps going but starts to lose the plot financially speaking, and then she too slips into drink, and everyone ends up insane, then dead. Gooooood times. At least L'Assommoir is short.