The Power Chords have got to be the hardest working band in San Diego right now. They play every weekend. Sometimes two shows a night. They are among Cat Dirt's favorite bands going right now(please note, I did not say "San Diego" or "local" because I believe they are among those bands who need no such qualifier). Their demo CD has already vaulted onto Cat Dirt's Top 25 list on the Cat Dirt house I Pod(Unattached Strings #5, The Fuse #20). Their first professional recordings is slated to be the first release on Nashville's newest, hottest record label: Mean Buzz. As Hallornan said at that seminar I went to a couple of weeks back, "Nashville has the hottest scene in America right now." (I actually wrote that quote down when I heard it)

And of course they're playing a couple shows with Cat Dirt's own Fifty on Their Heels. The show last night was Tim Pyles "Pop Rocks". The Power Chords brought the thunder, and played a couple of new songs: one was called "dots", I think the other was "dream girl". They are solid.

Photograph of said power chords: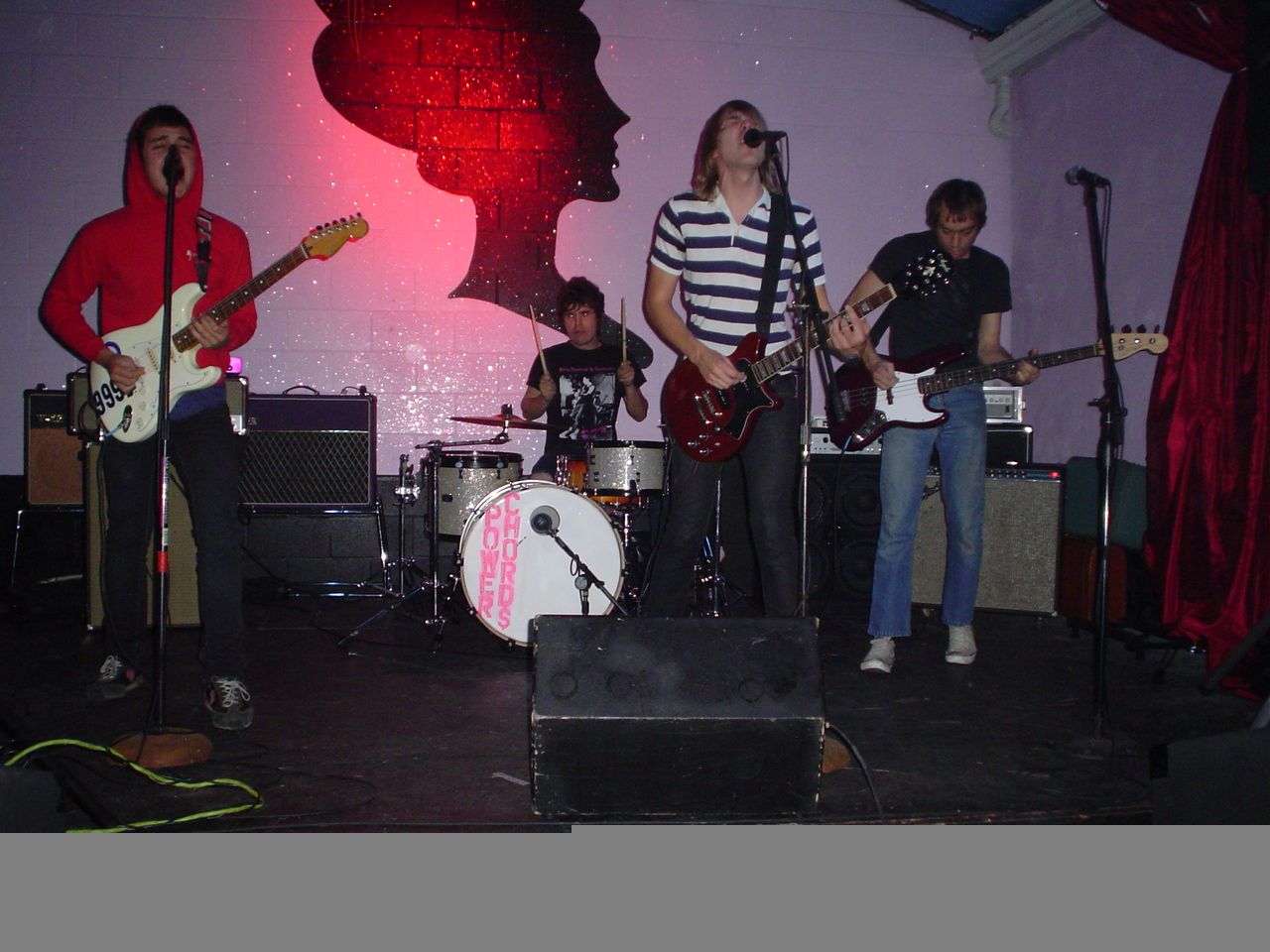 so dreamy.

After the 'Chords vintage rockers Manual Scan took the stage. Manual Scan is fronted by San Diego Union Tribune entertainment writer Bart Mendoza. Although Cat Dirt was unfamiliar with their music, he noted similarities between their sound and the Power Chords sound: lead guitar punk influence rock and roll. Did I mention Morgan Young was on drums? He looked physically exhausted by the end of the set. Hey Morgan, what are you going to do when Mercy Mercy opens for the Stones on their next American tour?

The cat daddies in Manual Scan:



So there you have it, another Monday night at BBSD. Cat Dirt doesn't know whether Pop Rocks is happening in June- I may check out Lady Dottie & the Diamonds at the Tower Bar next monday. After the tour de force rocking that Society gave the Casbah on sunday night, Cat Dirt feels like Lady Dottie and the Diamonds deserves an honest appraisal.

Tonight: Jezebel & Swandive @ Beauty Bar
Thursday: Que C'est(sp?) @ BB
Friday: Okmoniks! The Power Chords! The Sess! Atoms! @ Coffee House on Broadway(@ 30th). That one is a can't miss show.